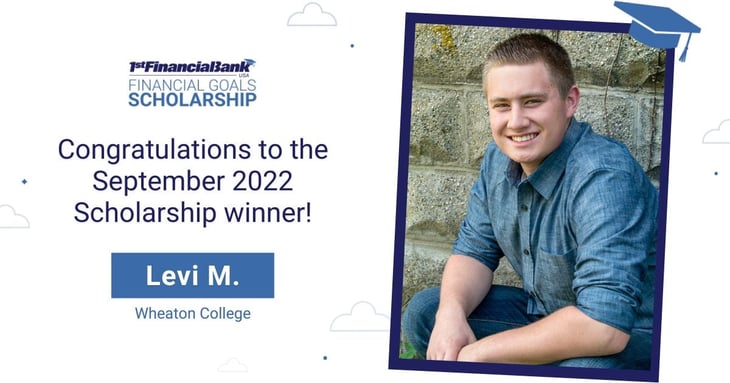 We are excited to announce the September 2022 Financial Goals Scholarship winner is Levi! Congratulations!
"I am honored to be selected a winner for the 1st Financial Bank USA Financial Goals Scholarship. I will put these funds towards completing my undergraduate degree at Wheaton College (IL) and, afterwards, on medical school tuition. I hope that my volunteer experiences have benefited those in the surrounding communities and world around me, and I encourage everyone to step outside of themselves and give to those around you, no matter if that is only a few hours of your week; I promise you will not regret the decision." - Levi M.
As a student, your time is valuable. Stretched between classes, friends, and other activities, you may feel that you don't have additional time in your day to give back to others. However, volunteering as a student can benefit you as much as the people you are helping. Levi shares how he currently volunteers on campus and how it benefits his goals:
"Of all my experiences, perhaps my time spent as a volunteer pushed me most towards wanting to make a difference in the field of medicine. My experience as a volunteer at Holland Hospital forced me to reexamine the lenses through which I had, for so long, viewed the world. It also shaped me into a more loving and compassionate person, as well as one that desired to make a difference. The opportunity that I had to serve others who were going through extremely difficult circumstances by offering them the gift of flowers, food, or a simple, kind smile, was incredibly rewarding and fueled my desire to serve those both in the communities and the world around me who were in similar circumstances. The patients and coworkers I met there pushed me to see a world I had been blinded to for so long, something that brought me an incredible amount of freedom.
My three years spent in this hospital allowed me to see the pain of others, opened and filled my heart with a compassion that I had never known, and forever changed the way that I saw others, particularly those who looked different from I did. The nature of the hospital's surroundings allowed me to serve the local Latino community and, for the first time in my life, I saw hurting people behind the once foreign language and culture. Whereas my time before volunteering was characterized by a superiority complex and lack of compassion, my volunteer work forced me to not only think about the experiences of others but also share in the pain that has been a part of their culture for centuries and ask myself what I could do to alleviate a portion of that suffering. As a whole, my volunteer experience at Holland Hospital, all without mentioning my time spent tutoring Spanish-speaking students at Puente del Pueblo in West Chicago, maintaining a garden that provides fresh fruits and vegetables to intercity Chicago residents, or my nearly eight years of workplace experience translating work instructions into Spanish for non-English-speaking employees, has given me an attitude of empathy and compassion, a mindset that has forced me to recognize that I am no better than others. In this way, my volunteer experience at Holland Hospital provided me with the motivation to make a lasting impact in the field of medicine.
In conclusion, there have been many events in my life that have contributed to my personal transformation as well as pushed me towards pursuing a career in medicine, those in my educational, personal, and volunteer experiences being among the greatest. By using the skills that I have acquired and developed in my research, my Spanish language skills, and my knowledge of medicine, I hope to be able to effectively serve those who are in underprivileged and often-forgotten communities abroad. Together, these experiences have enabled me to become a person that is deeply committed to serving others with a heart that will not give up until that task is completed."
Established in the year 1910, 1st Financial Bank USA (1FBUSA) provides quality community banking services in South Dakota, credit card and other financial services to college students and college graduates, and construction lending to builders, developers, and investors from coast to coast. 1FBUSA will award a $2,000 scholarship to a new winner each month. View full rules and eligibility at 1fbusascholarship.com.