Although the Financial Goals Scholarship has been awarded for several months now, this is the first time we are asking to hear about the goals you have for your financial future.The September 2021 Financial Goals Scholarship winner was Cole! Congratulations!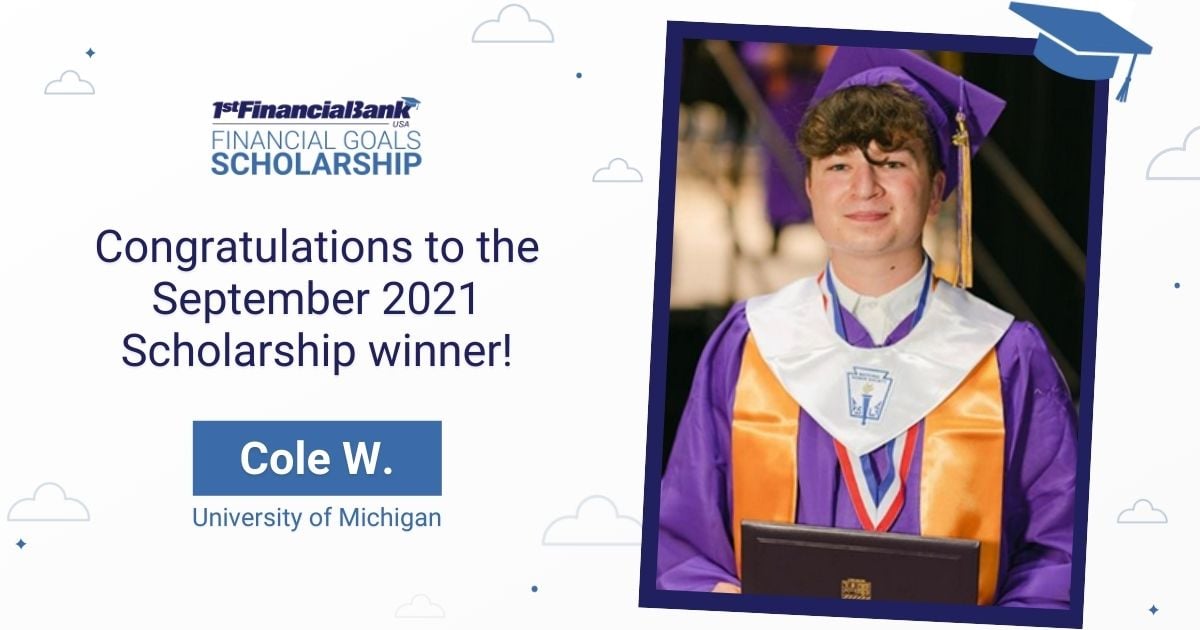 "I am honored to be selected as a winner of the 1st Financial Bank USA Financial Goals Scholarship. My relationship with my mom is something incredibly special... I'm so thankful for the scholarship, and I know it is going to aid immensely in my goal of buying a bookstore for my mom." - Cole W.
College is a time when students aim to excel in their classes, graduate with a degree, and begin their career. On top of those educational and career goals, students have financial goals. Some students make short-term financial goals, while other students are looking 5-10 years down the road. Cole shares his financial goal for the future and how he plans to achieve it.
"While I plan to pursue a STEM degree, it has become apparent that financial literacy and investing are incredibly important to anyone's future no matter their occupation. Hopefully, every college student has a career track and goal; however, as time has gone on, I've realized the importance of financial goals as well. When I was younger, I dreamed of owning a massive mansion filled with everything signifying the height of luxury. Yet as I grew older, my financial goal changed drastically to something more realistic and more personal. My mother never was able to have a full-time job because of her three children and Multiple Sclerosis, but she would talk wistfully of one day owning a bookstore. In that bookstore, she would sell a collection of used and new books, and as a personal touch from her, she wanted to have a few cats that lived in the store until a customer wanted to adopt. She always says that it's a mixture of her two passions: animals and books. I listened to her when I was younger and thought how cool it was, but as I grew older, I realized that it wasn't just a musing or a small dream; she genuinely wants to do this one day. Therefore, my financial goal was born: buying my mom her own space for a bookstore and enough money to start her business.
While financial stability is incredibly rare as a college student, I still want to take several steps so that my mom can have this bookstore as soon as possible. Firstly, I've been applying to a multitude of scholarship opportunities, so I can reduce my student debt. Because the less debt, the more money I can put towards the bookstore. Additionally, I'm currently working two jobs. The first job is as an online curriculum consultant and editor, and the second is as a Community Center Assistant at my local college. These two jobs will allow me to earn money, but I want to use the earnings from these jobs to invest in either CDS or stocks. These investments will allow my money to grow while I'm still in college, and it'll allow me to have money that I can later invest in my mother's bookstore. I have to take a series of classes unrelated to my major as part of my college program, so I plan to take some business or investing classes. This will allow me to expand my knowledge and hopefully expand my income. This financial goal is the definition of "killing two birds with one stone" because not only does it fulfill the dream of someone I hold dearly, but it also gives me a firm investment and income once I graduate. Used bookstores are becoming increasingly popular, and I believe that owning one on top of working my future career will provide extreme financial stability. I know this goal will come to fruition soon because if someone truly wants something, they will get it."
Setting a financial goal can help keep you on track with your money. It'll help you be less likely to spend money on impulse purchases since you're saving up for the larger goal. Just like any ordinary goal, if you put your mind to it and take the steps necessary to achieve it, you'll have no problem reaching your financial goals.
Established in the year 1910, 1st Financial Bank USA (1FBUSA) provides quality community banking services in South Dakota, credit card and other financial services to college students and college graduates, and construction lending to builders, developers, and investors from coast to coast. 1FBUSA will award a $2,000 scholarship to a new winner each month. View full rules and eligibility at 1fbusascholarship.com.