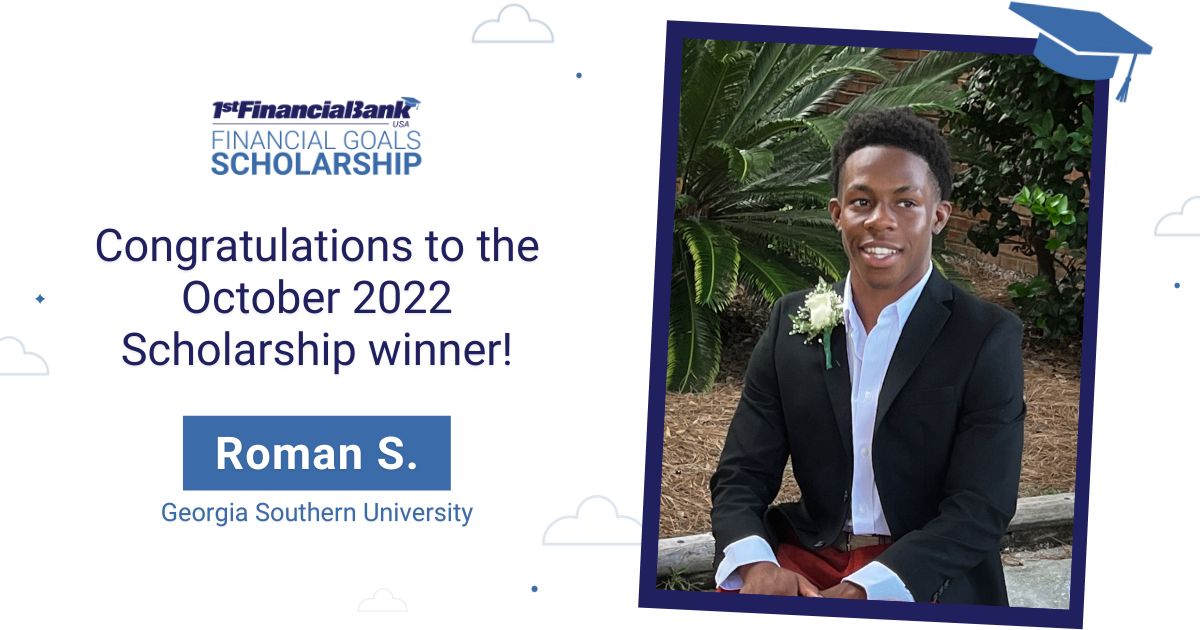 We are excited to announce the October 2022 Financial Goals Scholarship winner is Roman! Congratulations!
"I am super proud to be a winner of the 1st Financial Bank USA Financial Goals Scholarship. $2,000 is a significant amount that will assist me during my first semester of college next year. Many thanks to 1st Financial Bank USA for presenting this opportunity to future scholars." - Roman S.
Whether you're in high school or college, graduation comes faster than you think. As you start a new chapter of your life, you may begin to focus on financial goals, like building your credit, paying student loans, or giving back to a person or organization who has helped you. Roman shares a financial goal he hopes to accomplish, why it's important, and how he plans to achieve it.
"A financial goal I hope to accomplish in the near future is to have an excellent credit rating. I am not stating this claim simply because it is listed as an essay option, but because this important concept has been deeply ingrained in me at an early age.
Being financially responsible has been a recurring dinner-time discussion in my household. My mother often emphasizes that having an excellent credit rating reflects how creditors and/or lenders view a person's trustworthiness. This measurement of trustworthiness is important and significant when trying to obtain low interest rates for high value purchases such as cars and homes. Personally, this is important to me because I would like to purchase a home before I am thirty. My parents purchased their first home in their mid-thirties, and thus, they have provided me with an abundance of financial knowledge in hopes that my financial journey will be a successful, speedy, and prosperous one.
Also, having an excellent credit rating makes it easier to get approval for credit cards and loans with low interest rates. Having credit cards is important in today's society because there are many instances where credit payment is preferred or even required over cash payments. For instance, my parents share that oftentimes, credit cards are required for car rentals, making flight/hotel reservations, and etc.
I realize the average high school senior may not be concerned with credit ratings or financial responsibilities, however, I am. As I sit, alongside my parents, and plan for the next chapter in my life, going to college, I am becoming more and more aware of how instrumental and beneficial good decision making can be. I plan to make good financial decisions, and thus receive an excellent credit rating by utilizing the advice my parents have provided such as paying bills early or on time and having a low debt-to-income ratio.
I have had a great childhood. For instance, I have traveled to amazing places and have also enjoyed incredible experiences. I would not have done these things, just to name a few, without the financial backing of my parents. I cannot imagine not providing such experiences, and even better, for my parents when they are older and most importantly for my kids. Being financially responsible, as will be reflected in my credit rating, will assist me in providing a meaningful quality of life for my family."
Established in the year 1910, 1st Financial Bank USA (1FBUSA) provides quality community banking services in South Dakota, credit card and other financial services to college students and college graduates, and construction lending to builders, developers, and investors from coast to coast. 1FBUSA will award a $2,000 scholarship to a new winner each month. View full rules and eligibility at 1fbusascholarship.com.