Many people are in the habit of setting goals for themselves, whether it be educational, personal, or even financial objectives. However, people often fall short of their goals because they fail to take the proper steps to reach their goal. This month, we asked students to write about both: their financial goals and the plans they have to achieve them. The October 2021 Financial Goals Scholarship winner is Madison! Congratulations!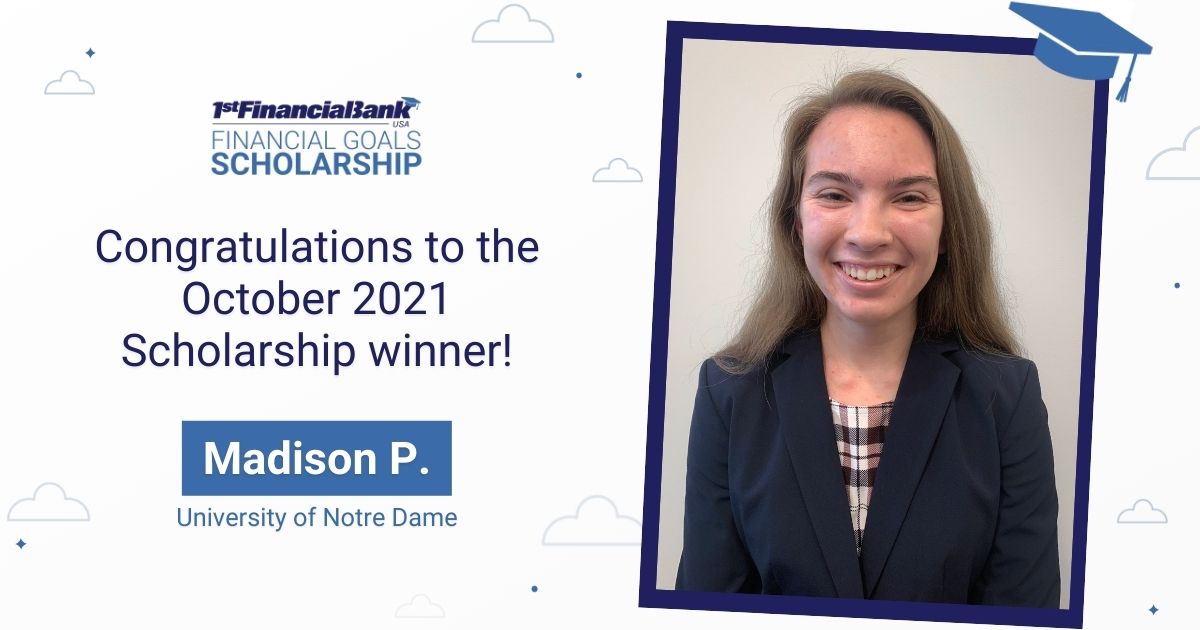 "I would like to thank 1st Financial Bank USA for selecting me as this month's recipient. I chose to attend Notre Dame because I knew the education that I would receive would be one that cultivates both my mind and heart. These characteristics will allow me to achieve both my financial and career goals. The investment that 1st Financial Bank USA has made in me has not only given me the means of achieving my career goals in chemical engineering, but has also given me a greater zeal to chase after them. The funds of this scholarship will directly go to paying for my tuition and allow me to relieve financial stress while focusing on my chemical engineering degree. Thank you again!" - Madison P.
College is a time when students aim to excel in their classes, graduate with a degree, and begin their career. On top of those educational and career goals, students have financial goals. Some students make short-term financial goals, while other students are looking 5-10 years down the road. Madison shares her financial goal for the future and how she plans to achieve it.
"Throughout my undergraduate education, I have been well aware of the fact that small investments of effort over time can compound into big strides forward. Whether that be reviewing my notes weekly to study for a cumulative final exam or taking the time to apply for internships, constant dedication propels me along my planned path. Outside of educational and career goals, I also have been working over the past four years to achieve a financial goal. After receiving my first credit card as a junior in high school, I set the objective to build a credit score above 800 by the time I had graduated with my bachelor's degree in chemical engineering. In the spring of 2023, I plan to leave college with my diploma in one hand and the credit card that helped me build a strong credit score in the other.
Credit cards give college students, like me, the opportunity to build important skills including time management, organization, and self-discipline. It takes time management to learn to pay your bills on time every month; while, similarly, organization is needed to keep track of specific bills or spending allotments. However, self-discipline is one of the most important lessons that credit cards can teach. Financial studies conducted by the New York Times reflect that people generally spend more when buying with credit cards as compared to with cash. By building a credit history during college, I can fight this trend with small, repetitive payments that will help me to build healthy money habits to rely on later in life. While building my credit score I have the opportunity to heighten these important life skills.
I have been taking steps to help me achieve my goal of building a credit score above 800. According to my research, making full payments in a timely manner can help to increase your personal credit score while late payments can negatively impact your credit score. Personally, I rely on the advice that my father gave me when using my own credit card. I choose a specific purchase that I know I can repay in full and that is also recurring; for me, that is my monthly gas bill. It is an easy way for me to build a reliable payment history that will lead me down the path of establishing a strong credit score post-graduation. Furthermore, I am working to maintain a high credit score by mitigating the possibility of student debt. By applying for scholarships throughout the school year, I am helping myself to stay debt-free and in turn, keep a strong credit score.
Credit cards offer the chance to prepare for your next stage of life after college. A credit history built through steady payments will not only provide important life lessons but also the chance at lower interest rates when it comes to achieving my future financial goals. Thanks to my early action and sustained accountability, I have put myself on track for achieving my goal of an 800-plus credit score."
Setting a financial goal can help keep you on track with your money, and it doesn't have to be time consuming. You can build your credit score by doing next to nothing. Just like any ordinary goal, if you put your mind to it and take the steps necessary to achieve it, you'll have no problem reaching your financial goals.
Established in the year 1910, 1st Financial Bank USA (1FBUSA) provides quality community banking services in South Dakota, credit card and other financial services to college students and college graduates, and construction lending to builders, developers, and investors from coast to coast. 1FBUSA will award a $2,000 scholarship to a new winner each month. View full rules and eligibility at 1fbusascholarship.com.