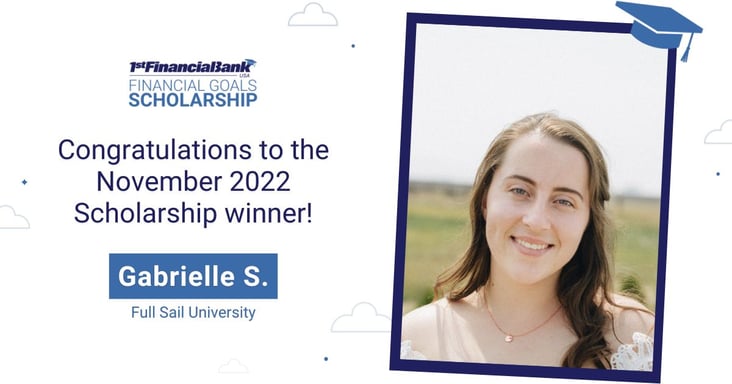 We are excited to announce the November 2022 Financial Goals Scholarship winner is Gabrielle! Congratulations!
"I am honored to have been awarded this scholarship and grateful for the help in achieving my goals in college and my financial goals afterwards. I hope my story and goals will help inspire others to be successful in their plans and goals as well." - Gabrielle S.
Whether you're in high school or college, graduation comes faster than you think. As you start a new chapter of your life, you may begin to focus on financial goals, like building your credit, paying student loans, or giving back to a person or organization who has helped you. Gabrielle shares a financial goal she hopes to accomplish, why it's important, and how she plans to achieve it.
"I love budgeting and setting big financial goals for myself, such as building up an emergency fund, increasing my credit score, investing for the future, and saving to own my first home. The biggest financial goal I have for myself after college is to pay off my loans as quickly as I can so I can begin working on bettering my life in other ways and getting to help others in need.
My plans to achieve being debt-free include living on less than I make, investing, and using rewards systems to my advantage. These are ideas I currently practice and will continue to grow throughout my life in college and in my future career.
Living on less than I make will be the most impactful way to reach my goal. Through the education I am receiving and will continue to receive, I will be working my way up the pay scale in my current field as much as I can, allowing me to earn more in a given period. I am also following a zero-based budget that allows me to keep expenses low by only spending what is needed to cover bills and other necessary expenses, while the rest is stored away safely in a savings account.
Investing a small portion of my budget will also be important in helping me reach my goal. With research and careful consideration, I am investing what I can into reliable stocks and bonds to further profit from what I've already earned. My next step in making this more successful is seeking assistance from a financial advisor in the future.
Finally, I am taking advantage of rewards systems like cash-back and interest rates to get closer to my goal. Using a cash-back system, I will take purchases I was already going to make, such as groceries and bills, and use a credit card. I pay off the card each week keeping the card clear, increasing my credit score, and earning a small percentage of the purchase back allowing me to save on future purchases with the card. I also use my bank's interest rate to my advantage by putting everything I can into one savings account so that over time the interest will grow, earning more on what I have already saved.
By living on less than I make, investing, and using rewards systems to my advantage, I know I can achieve my goal of being debt free. After I have achieved being debt free, I can continue to make and reach new goals while guiding others to do the same."
Established in the year 1910, 1st Financial Bank USA (1FBUSA) provides quality community banking services in South Dakota, credit card and other financial services to college students and college graduates, and construction lending to builders, developers, and investors from coast to coast. 1FBUSA will award a $2,000 scholarship to a new winner each month. View full rules and eligibility at 1fbusascholarship.com.