College is a time when students have educational and career objectives, but they also have financial goals. We are excited to announce the November 2021 Financial Goals Scholarship winner is Ryan! Congratulations!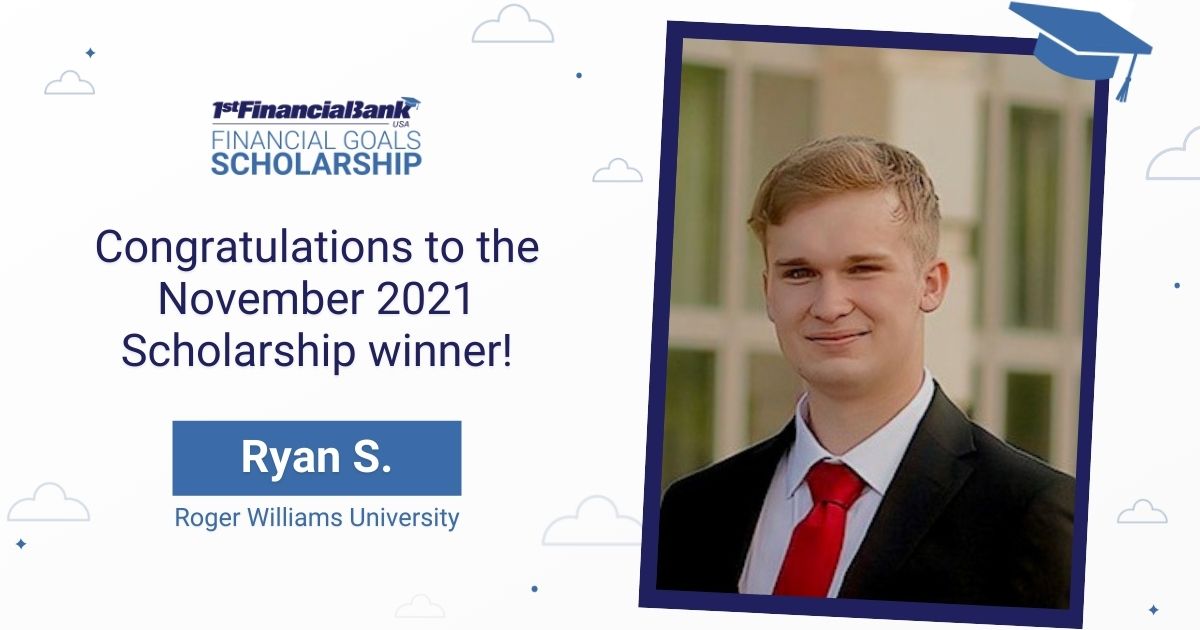 "It is an honor to be selected for the 1st Financial Bank USA Financial Goals Scholarship! Winning this scholarship proves that setting aside time to apply really pays off. My goal is to graduate from college debt free, and by taking less than an hour to write an essay on how I plan to do so is helping me reach that goal." - Ryan S.
Financial goals can be completely unique or revolutionary; however, goals can also be developed because you want to avoid an unfortunate financial path that has affected a person you know. Ryan shares why he developed his financial goal for the future and how he plans to achieve it.
"As a freshman at Roger Williams University, having chosen a finance major with an accounting minor through the Gabelli School of Business in their 5-1 MBA program, my most significant financial goal is to graduate with little to no borrowing debt. While this will be a difficult task, I am confident I will be able to accomplish my goal with a clear plan of scholarship and grant applications, dedicated employment, and investment opportunities.
As a child growing up, I watched my mother struggle to pay back her student loan debt. She had put herself through college, mostly with student loans. Although the interest rate was low, the monthly payment was high, and she suffered the low paying wages of entry level jobs. She had a few setbacks, some struggles, and there were days she was unsure how it was all going to work out. In the long term it did. She worked her way up, was promoted to better employment, and made more income. Finally, she paid off her student debt after 16 years.
I am determined to not have to financially struggle my first decade (or two) after college. I will work hard to pay my own way through college, while remaining opposed to amassing debt that will have to be paid back long term. I am continually looking for scholarships and grants online and applying to each one where I fit the criteria. I have begun posting all the great opportunities for financial assistance that I do not qualify for on social media, hoping that I can help someone else have the chance to reduce their post-college student debt. It is opportunities like this very one 1st Financial offers that changes the lives of young men and women.
While working and going to college can be overwhelming at times, having a steady income allows me to save for each semester's tuition. I am taking my college payments one semester at a time, knowing that each one that I do not have to apply for a loan for is less debt I will have to repay once I graduate. A payment plan is offered, so I can budget exactly how much I need to make to stay current with the monthly invoice. My goal is to earn slightly more than each month's tuition payment, so I can begin to learn investment strategies.
While obtaining a college education, I am hoping that my investments of today become my college tuition payments of tomorrow. I am investing in both the traditional stock markets and cryptocurrency. This allows me to have the feeling of safety in my money while also having the excitement of new investment opportunities. For many people my age, their goals begrudgingly include financial goals, instead focusing on more spiritual or emotional fulfillment. For me, my life revolves around financial goals, and I intend to focus on them for not only myself but to also help others."
Setting a financial goal, such as paying for college, is a major challenge. Leaning Tips to Help You Pay Off Student Loans Fast can help. Just like any ordinary goal, if you put your mind to it and take the steps necessary to achieve it, you'll have no problem reaching your financial goals.
Established in the year 1910, 1st Financial Bank USA (1FBUSA) provides quality community banking services in South Dakota, credit card and other financial services to college students and college graduates, and construction lending to builders, developers, and investors from coast to coast. 1FBUSA will award a $2,000 scholarship to a new winner each month. View full rules and eligibility at 1fbusascholarship.com.