We are excited to announce that the November 2020 1st Financial Bank USA Financial Goals Scholarship winner is Jenay! Congratulations!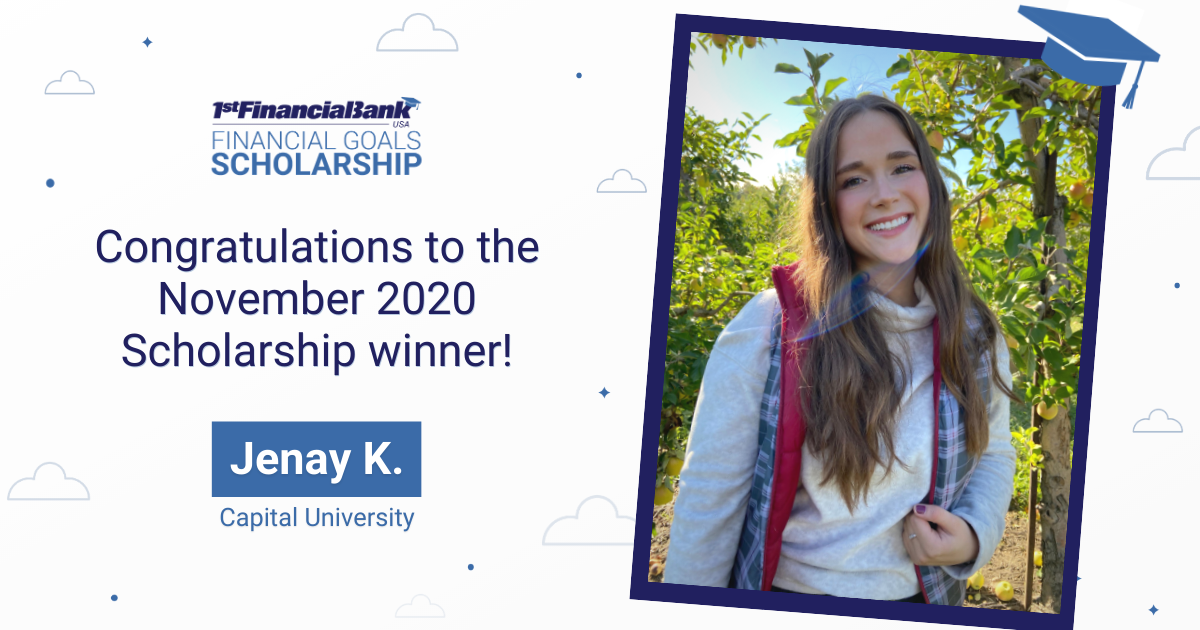 "Thank you so much to 1st Financial Bank for providing the opportunity to win this scholarship. I am so grateful for the opportunity to talk about the rewards and challenges of virtual learning, and to earn the scholarship as a result! I will be using these funds to help pay for my classes and textbooks to earn my degree in psychology." - Jenay K.
2020 has caused many students to adapt from in-person classes to virtual learning. Jenay shares her experience with the transition and offers advice to others in the same situation.
"When thinking about my college experience, I definitely did not imagine myself immersed in virtual learning in the midst of a pandemic. Going to college online has had its challenges, but in many ways has also been a time of growth. The most obvious adjustment to online learning has been the general lack of structure. There are weekly zoom calls for class, but otherwise, students are on their own in terms of reviewing and learning material. This in itself has been a challenge as I am one who thrives on structure and social interaction. At first it was tough to not be interacting with my professors and peers in the traditional classroom setting. In order to combat this, I established a daily routine that helps me stay on track. I begin my day with a workout and breakfast, followed by a homework session with a cup of coffee. In the afternoon, I make lunch and clean my work or living space, and in the evening, I have volleyball practice and do any last studying or review before bed. I also enjoy making zoom calls with my peers or group members to collaborate on projects in as much of an "in person" fashion as possible. Because of the flexibility of online learning, I was also able to secure a part time job as a Mental Health Specialist at Nationwide Children's Hospital in the Neurobehavioral Unit. I am a psychology major and this job has been so rewarding in terms of real life experience as well as financial resources to help me save for graduate school.
My biggest advice to those navigating the waters of online learning is to try to create structure in this time of unknowns, but also to take time to yourself. I find that the structure helps me to stay focused throughout the day and helps keep the stress of school and other commitments at a manageable level. It is common, especially in this time of isolation, for college students' mental health to struggle. I find that doing at least one thing every day that brings me pure joy is a way to help combat anxiety from this tough transition. Some of my favorite activities are painting my nails, reading, or taking a walk outside. This helps me take a physical and mental break from school work and makes me feel refreshed and motivated. It is easy to become consumed by all the negatives of this situation we find ourselves in. It isn't easy for anyone, especially those personally affected by the pandemic. It is so important for people to give themselves extra grace and care in these times. My ultimate advice is stay connected to loved ones, take time to yourself, stay focused on your goals, and keep going, it will get better."
Virtual learning has been a struggle for many students around the nation. Adjusting to a completely new routine is never easy. For virtual learning tips, read 7 Tips For College Students To Excel in Online Courses.
Established in the year 1910, 1st Financial Bank USA (1FBUSA) provides quality community banking services in South Dakota, credit card and other financial services to college students and college graduates, and construction lending to builders, developers and investors from coast to coast. 1FBUSA will award a $2,000 scholarship to a new winner each month. View full rules and eligibility at 1fbusascholarship.com.