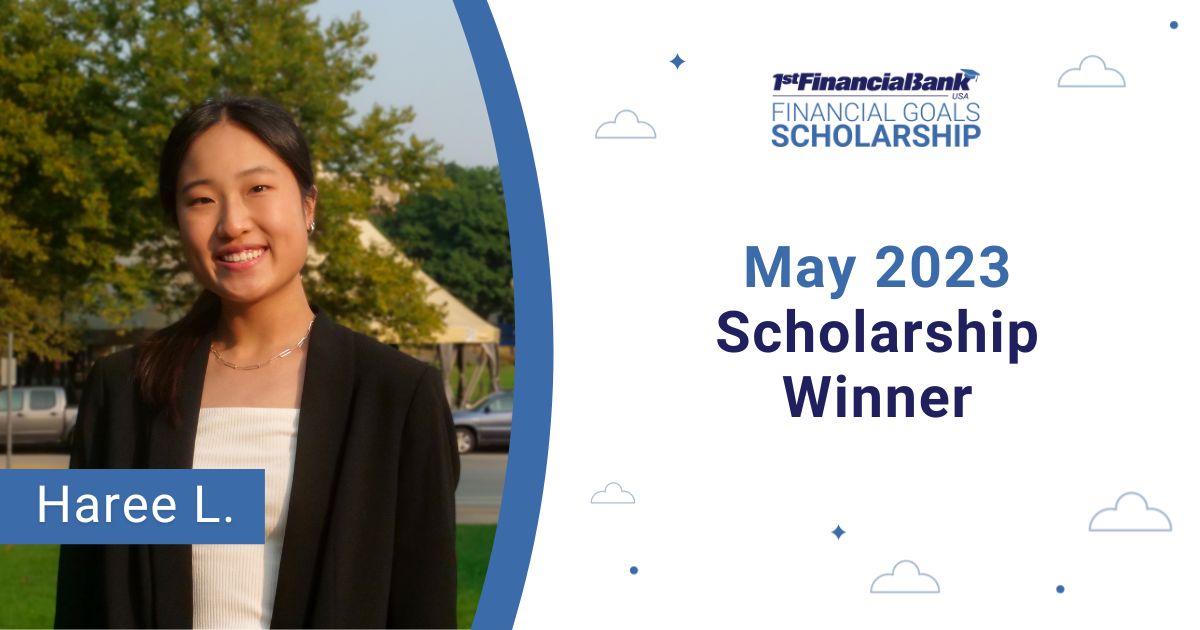 We are excited to announce the May 2023 Financial Goals Scholarship winner is Haree! Congratulations!
"I am honored and thrilled to learn that I have been selected as a winner of the 1st Financial Bank USA Financial Goals Scholarship. I would like to express my sincere appreciation to the 1st Financial Bank USA team for recognizing my hard work and commitment to education. Receiving this scholarship not only validates my efforts but also provides me with the invaluable financial support to further pursue my academic goals. Thank you for investing in my future. I am truly honored to be a recipient of the Financial Goals Scholarship." - Haree L.
Money can be tight in college. Sometimes financial aid and savings aren't enough to cover all of your expenses. In her essay, Haree shares how to earn an income in college and offers advice to other students who are looking for ways to make extra money in college.
"Financial aid. Unsubsidized loans. Scholarships. Those terms would be ingrained in my vocabulary the summer before my freshman year of college. During the summer, all I could think about was money. How was I going to pay off my loans? What can I do to lighten my financial burden? Inspired by friends who have graduated college debt-free, I began taking the steps necessary in order to pay for my expensive college tuition.
The first thing I did was search on websites like Indeed.com and LinkedIn to find part-time jobs for the summer. Comparing my current resume to the job requirements, I applied to jobs that I had the experience for, making me a great candidate for the position. For example, many of my high school volunteer hours were spent in nursing homes, soup kitchens, and hospitals. Since I had significant experience in serving patients and the elderly, applying to part-time jobs at hospitals near me put me at an advantage compared to ordinary applicants. Each summer, I repeat this process.
One of the easiest ways I earned money was through babysitting. To get my name out, I joined many Facebook group chats with locals seeking babysitters. What is convenient about these group chats is that there is always someone seeking a babysitter, making opportunities easy to find! I also reached out to my neighbor, who's kids I now regularly babysit each summer. With my earnings from simply babysitting, I have been able to pay for my college textbooks and course fees.
My biggest piece of advice is to reach out to places as much as possible. Get your name out there and don't be afraid to ask employers if any positions are available. Though applying through websites like Indeed.com can be a great way to find a job, I found sending emails, cold calling companies, and even coming in-person quite successful, especially for competitive positions. This not only tends to get you a quick response, but it also shows your interest to work for the position.
For emails, I recommend creating an email prompt that you can easily access for future use. This will save you time. There are plenty of email prompts all over the internet, so I recommend you find one to get an idea of formatting such as a proper greeting and self-introduction. Once you have an idea of formatting, you can then add more to make it your own. Don't forget to attach your resume/cover letter! The job searching process can get quite disorganized, so I recommend creating a spreadsheet on Google or Excel to keep track of your applications.
And last but not least, keep in mind that rejection is redirection! The worst that can happen is that you don't get the job. You can then continue searching elsewhere. Do not let a rejection discourage you! There are plenty of opportunities available as long as you keep looking."
Established in the year 1910, 1st Financial Bank USA (1FBUSA) provides quality community banking services in South Dakota, credit card and other financial services to college students and college graduates, and construction lending to builders, developers, and investors from coast to coast. 1FBUSA will award a $2,000 scholarship to a new winner each month. View full rules and eligibility at 1fbusascholarship.com.