We are excited to announce the May 2022 Financial Goals Scholarship winner is Caitlyn! Congratulations!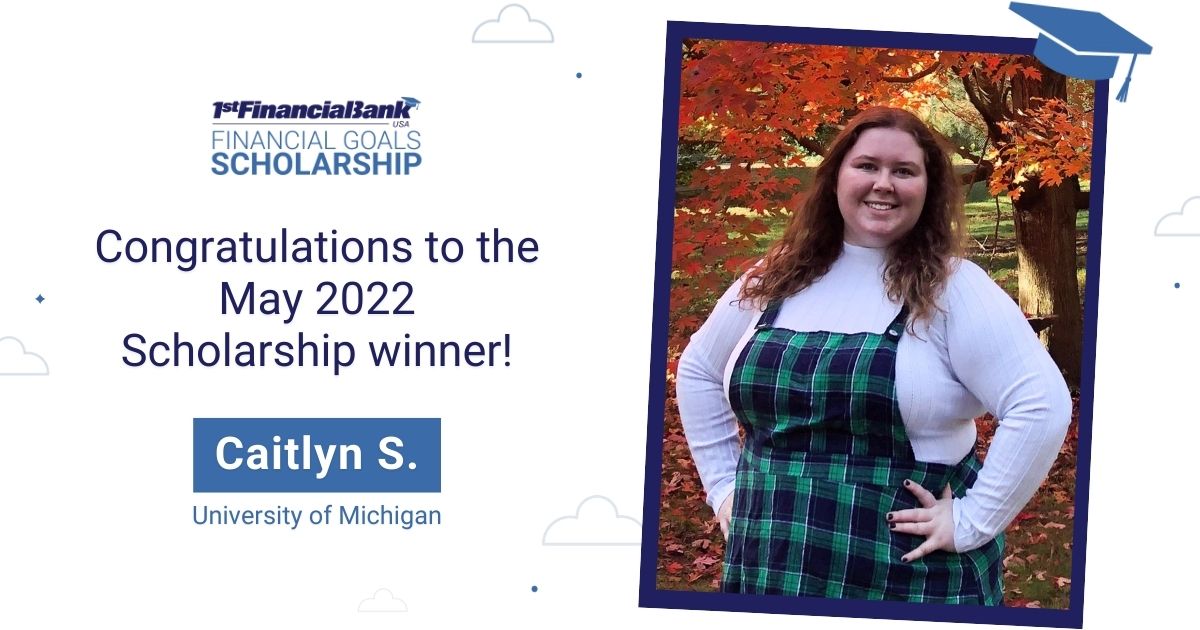 "I am extremely honored to be chosen as a winner for this scholarship. I will be using these funds towards my future goals of finishing my degree and then law school. It is very important to use money realistically and responsibly, and I plan to do just that." - Caitlyn S.
Money influences many decisions. Which college to attend, where to live, and even what to eat for dinner are all questions that may be impacted by your account balance. If you were gifted one million dollars, you would likely reach your financial goals much more quickly. Caitlyn shares what she would do first with a large sum of money and how it would help her achieve her goals.
"As many others likely have, I have pondered what my life would be if I were to receive a large sum of money. For some, the initial reaction is to spend the money immediately, but I would prefer to save to fund my future and live modestly now.
If I were to receive a million dollars at this very moment, I would immediately begin paying my student loans early and my parents back for the money they have loaned to me for schooling. I was unable to afford to attend college with my own savings and some financial aid, so my parents made sacrifices to loan me the money for my education. I am eternally grateful for all of their support and encouragement, so I would wish to give back to them what they have given me.
Secondly, I would place most of the money, aside from what I need to pay for my undergraduate degree, into a savings account where it will remain until I am ready to attend law school. I have always dreamed of going to law school, but I also recognize the great expense it will be. Being gifted the money would ensure that my schooling is paid for and that I can pursue the job of my dreams.
Lastly, the rest of my money would be saved for after graduation. I intend to live in New York City to pursue my dreams of becoming a civil rights lawyer. The housing market being so inflated in New York is an obstacle for my future, but the rest of the money would allow me to find somewhere to live and take on a job doing something I have been passionate about for my whole life.
I cannot say all of my finances would be directed towards my education and career, because even in my current situation they are not. I believe that life experiences are also valuable, and so I would devote some funds to traveling abroad after my graduation. I have always wanted to see the world, and I believe that the experiences I would gain from traveling would be well worth the expense. I hope to one day visit Italy, where my family lives, or France, whose language I have been studying for six years.
All in all, receiving a gift like this would allow me to fund my future and support me in my future career of law. Education has been the greatest expense of my life, and while I work and save, it is easy to fall short. Any amount of money would certainly reduce the strain."
Established in the year 1910, 1st Financial Bank USA (1FBUSA) provides quality community banking services in South Dakota, credit card and other financial services to college students and college graduates, and construction lending to builders, developers, and investors from coast to coast. 1FBUSA will award a $2,000 scholarship to a new winner each month. View full rules and eligibility at 1fbusascholarship.com.