School's out for summer, but 1st Financial Bank USA is still giving out scholarships! In May of 2021, the winner of the 1st Financial Bank USA Financial Goals Scholarship is Nicholas! Congratulations!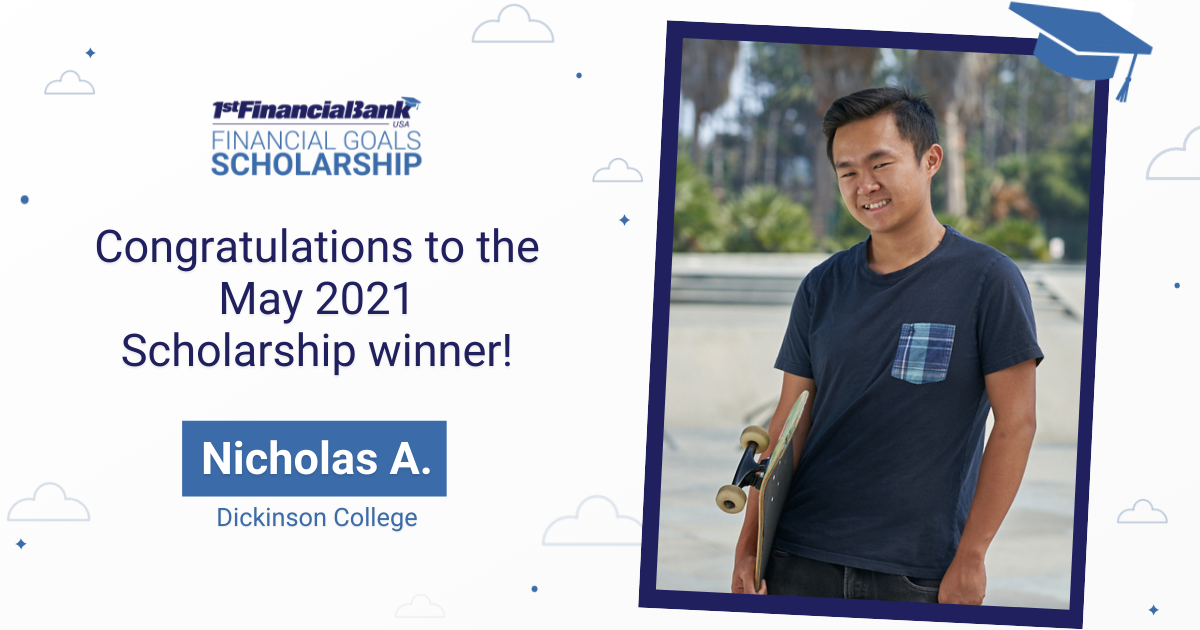 "I want to thank 1st Financial Bank USA on helping to fund my higher education journey. With cost of college increasing, it is more important than ever to make smart financial decisions. 1st Financial Bank USA and other institutions help make college affordable through educational materials and opportunities such as this. I hope my essay inspires others to get involved in their financial journey and make smart and educated choices throughout their financial journey." - Nicholas A.
College is a time when students attend classes, participate in events and activities, and potentially work a part-time job. On top of that, students are expected to learn how to manage their finances. Some students are even in charge of their finances for the first time. Nicholas shares his experience of balancing college with money management and offers advice to others in the same situation.
"Arguably one of the most cliché statements in finance is that money does not grow on trees. We understand the need to be responsible with your finances; however, we often do not understand the first step on how: How do we manage our money? How do we invest? How do we build credit?
Those questions reverberate the halls of every college dorm, yet many do not know how to answer those questions. To say money does not grow on trees is untrue because it does. Money grows from the seeds we sow, beginning with healthy habits. Getting your finances in order might not seem too glamourous, but eventually, the perfect credit score and debt-free life you soon will have is.
Quintessential of everyone's introduction to finance is the process of opening a bank account. While it may be nice to see all your hard-earned cash sitting under your bed, it is even nicer to know your money is safe. Opening a bank account with an FDIC insured bank ensures that you will never lose your money again. The Federal Deposit Insurance Corporation protects you up to $250,000 if the bank defaults. More simply, the FDIC is the friend who will always pay you back if you give them money. If you ever need the money you deposited simply take out your new debit card or tap your phone.
I know being in college isn't conducive to having free time to walk into a bank, so with the help of the internet, simply fill out an application online at your bank of choice; you do not even have to leave your dorm. This same process applies to opening your first investment account and credit card as well. While the idea of having a credit card might be amazing; don't get your hopes up too high. Interest rates can lead to out-of-control debt, so an easy way to prevent that is to treat using your credit card as a debit card. Enabling the option to automatically pay off your balance in full each month means you will be less likely to overspend, especially if you know you will have to pay off your balance every month.
Continue the process of using and paying off your credit card in full every month, and by the time you graduate, you will have an amazing credit score. Just make sure you don't miss any payments. But what is a credit score? A credit score rates how likely you are to pay off your debt, thus higher scores indicate you will likely pay back your loan. For example, a high credit score is like your friend who always pays you back, making you more likely to loan him money. The opposite is also true.
While I can continue to offer advice, your finance journey is yours to find. However, that doesn't mean you can't learn from those before you, and sow the seeds for your money tree to grow."
Even though it isn't easy for students to correctly manage their money on top of all of their extracurriculars, it doesn't have to be over-complicated either. They should start by creating a budget, and if they need help, use How to Create a Budget for College as a guide. With the right attitude and resources, students can be masters of their finances in no time!
Established in the year 1910, 1st Financial Bank USA (1FBUSA) provides quality community banking services in South Dakota, credit card and other financial services to college students and college graduates, and construction lending to builders, developers, and investors from coast to coast. 1FBUSA will award a $2,000 scholarship to a new winner each month. View full rules and eligibility at 1fbusascholarship.com.