1st Financial Bank USA is excited to announce their latest scholarship winner! In March of 2021, the winner of the 1st Financial Bank USA Financial Goals Scholarship is Jasmine! Congratulations!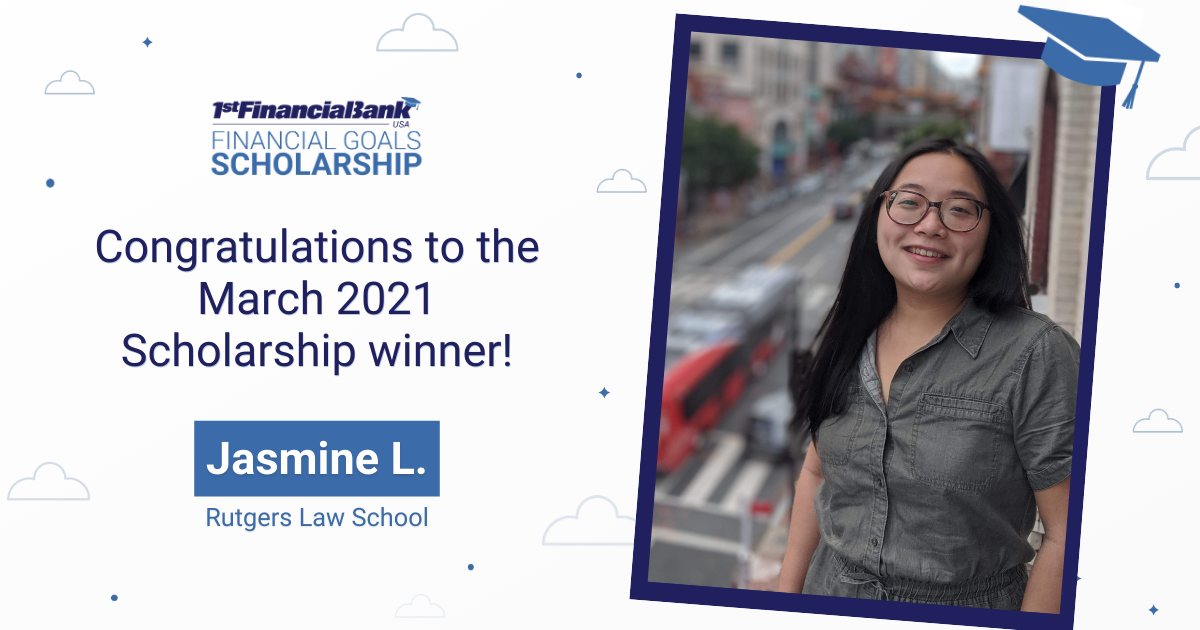 "I am honored and grateful to have been selected as the March winner of the Financial Goals Scholarship! I hope my advice and college experience can help other students reach their financial goals and find success in college. Good luck to everyone!" - Jasmine L.
College is a time when students attend classes, participate in events and activities, and potentially work a part-time job. On top of that, students are expected to learn how to manage their finances. Some students are even in charge of their finances for the first time. Jasmine shares her experience of balancing college with money management and offers advice to others in the same situation.
"When I first left home for college, I barely knew how to cook or do laundry on my own. I did not even have a debit card.

This changed after I got together with a group of freshmen after orientation to open our first bank accounts. Needless to say, I knew very little about personal finance. As I reflect on my undergraduate career and prepare for law school, I can offer advice to students learning to manage their own finances for the first time. My first piece of advice is to open a student checking account with a low minimum balance. If left unchecked, small frivolous expenses and dining out can easily lead to overspending. You can better budget by using a debit card instead of cash and by tracking monthly expenses on your bank statement. Furthermore, planning ahead lessens the guilt and stress when it comes to large purchases and making payments. Budgeting may seem like a daunting task at first but, like most things, it gets easier with time and will soon become second nature.

I began a new life of independence balancing my time between five classes, three clubs, and a work-study on campus. It was helpful to set a budget, track my expenses, use student discounts, and cut back spending. For example, I saved money by buying textbooks from college Facebook groups, getting clothes at the thrift store, and bulk-buying essentials like rice and toilet paper. From there, I meal prepped every Sunday to stop myself from ordering delivery, and as a result, I saved time during the week that I used to study more. However, it is important to practice self-care and avoid burnout by budgeting for an occasional dinner, music festival, or night out. After all, you are in college to make cherished memories with lifelong friends and grow from new experiences.

Still, social events do not have to be expensive. You can stay connected (while social distancing) by hosting a virtual Netflix watch party or attending an online yoga class. As the world begins to open up again, you can consider budget-friendly activities such as going on a picnic, exploring local nature paths, or visiting a free museum.

Once you have the fundamentals in place, you can consider opening a student credit card to start building your credit history, credit limit, and credit score. Additionally, consider starting an emergency fund for unexpected events such as car repairs or medical expenses. It is important to be realistic, to live within your means, and to always pay your credit card balance in full before the due date.

Personal finance and money management are important life skills that come with time and experience. As you start your journey as a young adult, remember to handle your financial responsibilities properly, and above all else, live a life you will remember and have fun in college!"
Even though it isn't easy for students to correctly manage their money on top of all of their extracurriculars, it doesn't have to be over-complicated either. They should start by creating a budget, and if they need help, use How to Create a Budget for College as a guide. With the right attitude and resources, students can be masters of their finances in no time!
Established in the year 1910, 1st Financial Bank USA (1FBUSA) provides quality community banking services in South Dakota, credit card and other financial services to college students and college graduates, and construction lending to builders, developers and investors from coast to coast. 1FBUSA will award a $2,000 scholarship to a new winner each month. View full rules and eligibility at 1fbusascholarship.com.