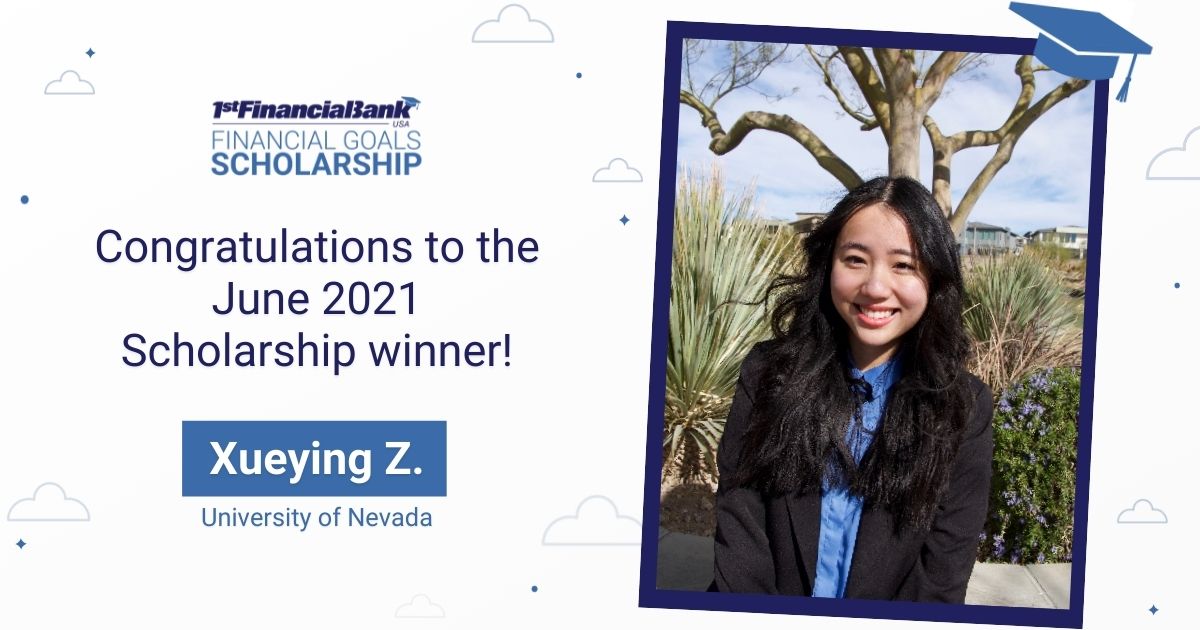 We are excited to announce the June 2021 winner of the 1st Financial Bank USA Financial Goals Scholarship is Xueying! Congratulations!
"Words cannot describe how grateful I am to be selected as the June scholarship recipient. Thank you, 1st Financial Bank USA, for supporting students through higher education and promoting healthy money management in young adults. As a first-generation college student, I recognize the importance of education and developing smart financial habits early; I hope my essay will inspire others to expand their financial literacy. With this scholarship, I can focus on my passion for medicine. Hats off to those making the effort toward their educational or financial goals, and cheers to future financial success!" - Xueying Z.
College is a time when students attend classes, participate in events and activities, and potentially work a part-time job. On top of that, students are expected to learn how to manage their finances. Some students are even in charge of their finances for the first time. Xueying shares her experience of balancing college with managing her credit card and offers advice to others in the same situation.
"Beginning college, I thought the most important score in my life would be the SAT or ACT - I was wrong. While these scores are significant components of college admissions, they are unlikely to be influential after starting university. What does follow us throughout life, however, is our credit score.
Upon starting my first job in college, my parents encouraged me to apply for a credit card with my bank to build up credit. I still remember the panic of having to call the bank so they can explain every detail of my credit card and how to pay for my first bill. Annoyed at my incompetence in the situation, I began researching online to improve my understanding of what I have signed up for. A credit score represents the likelihood that a person will pay off their bill on time and ranges from 300-850. Several factors affect the credit score including the number of credit accounts, length of time having such accounts, revolving utilization, missed payments, and bank inquiries. Moreover, I realized that loans, including student loans, count towards your credit, which is why it is paramount to understand what you are borrowing extensively.
At first, I felt flustered with all this information while balancing my undergraduate coursework, extracurricular activities, and personal life. However, many complicated issues can be managed by taking action one step at a time. To begin, I enrolled for a FICO Score and downloaded apps onto my phone to keep track of my credit score and credit usage. I realized that having a credit card can have remarkable benefits from bonuses for specific purchase categories to accumulating reward points merely by utilizing your card. In simpler terms, you get free money back for buying items, and for college students, this perk is a huge deal.
However, with every great power comes great responsibility. Throughout my undergraduate career, I only purchased with the money I already had in my bank account. Therefore, I would not risk any late credit payments, thus avoiding accruing interest and a late fee on my monthly bill. This practice has helped me keep my revolving credit utilization low and have zero missed payments. Having a credit card is about self-control, having financial awareness, and keeping yourself accountable - all traits that help prepare college students for their future.
As I embark on my journey in medical school next year, my good credit score has allowed me to be approved for housing and medical student loans. In the future, this score will allow me to buy the house and car of my dreams. The steps I have taken in managing my credit cards have allowed me to remain vigilant with other aspects of my life and cultivate the characteristics of a financially responsible adult. Nevertheless, it is never too early or too late to learn, and I hope everyone can take the initiative today towards financial literacy and success."
Even though it isn't easy for students to correctly manage their credit cards on top of all of their extracurriculars, it doesn't have to be over-complicated either. They should start by creating a budget, and if they need help, use How to Create a Budget for College as a guide. With the right attitude and resources, students can be masters of their finances in no time.
Established in the year 1910, 1st Financial Bank USA (1FBUSA) provides quality community banking services in South Dakota, credit card and other financial services to college students and college graduates, and construction lending to builders, developers, and investors from coast to coast. 1FBUSA will award a $2,000 scholarship to a new winner each month. View full rules and eligibility at 1fbusascholarship.com.