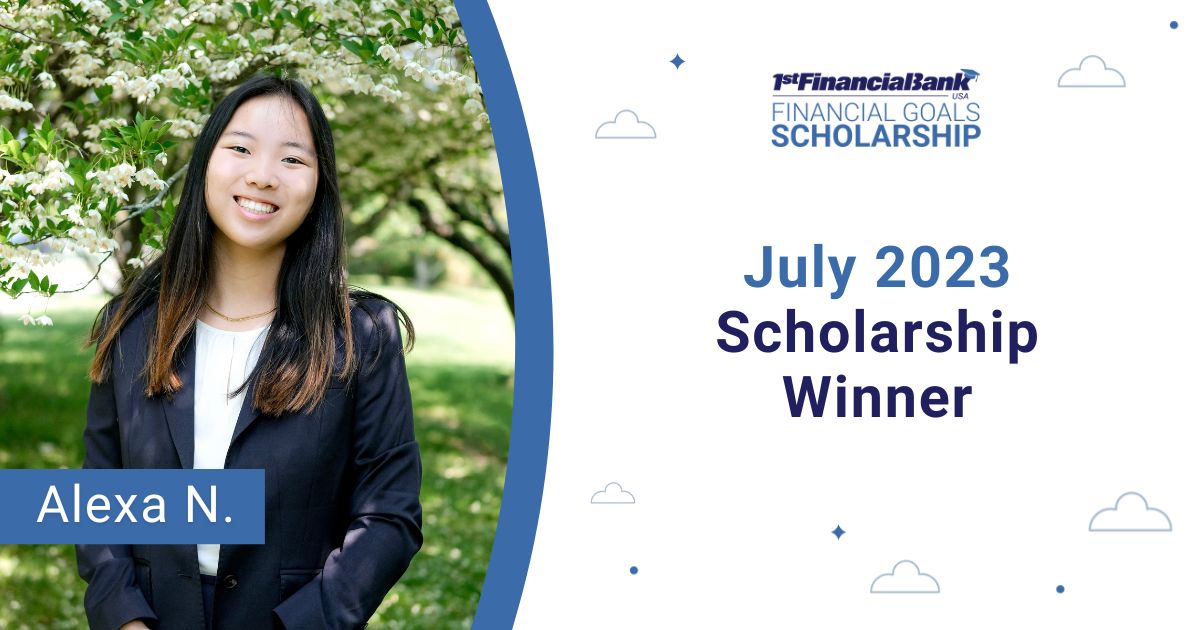 We are excited to announce the July 2023 Financial Goals Scholarship winner is Alexa! Congratulations!
"I am truly honored to have been selected a winner of the 1st Financial Bank USA Financial Goals Scholarship. Winning this scholarship not only will help relieve the financial burden of college expenses, but will also allow me to focus my efforts on my academic studies in math and government. Thank you for continuing to support college-aged students; I am so incredibly grateful to those at 1st Financial Bank USA!" - Alexa N.
Often times, students may feel pressured to keep up with the latest music releases or revolving fashion trends. However, one trend that never goes out of style is having a good credit score. In her essay, Alexa shares how she builds credit in college to reach her long-term financial goals.
"As a college student, it seems that there is a never-ending list of spending opportunities. You always want to experience everything you can, and you're often encouraged to do so, while you're still young and unencumbered with rent, bills, and other "real" adult expenses. Whether this be dinner out with friends, concert tickets, Uber rides, or even just late night snacks from Insomnia Cookies, I find myself often spending more than I wanted or expected to. Therefore, it has become increasingly important for me to be mindful of my spending habits.
When I opened my first credit card about a year ago, I was warned by my parents to become even more careful about my spending than when I had just a debit card. Credit cards at first can seem like unlimited money; you don't see deductions immediately coming out of your bank account. The first few months of paying my credit card bill were shockers, as the reality of how much I had spent that month set in. But by paying my credit card bill on time each month, I know that I am slowly but surely building up my credit in college. While tickets to go see Doja Cat may seem like a frivolous expense (they are, but in my opinion they were worth every penny I saved up for them!), I also know that putting the purchase on my credit card and then paying that bill on time will help me build credit, which will ultimately help me in the long run.
Although I certainly don't have all of my post-graduation plans figured out, I know that I eventually want to be financially stable enough to buy a home and raise a family. And I know that in order to get a mortgage to buy a home, you must have a good credit score. When my eventual kids eventually go off to college, I assume that I will have to take out loans, where again, I will thank my college self for having built good credit. Lastly, one of my other dreams is to eventually have a bakery of my own. Assuming I have the opportunity to make this dream come to life, I know I will have to take out loans to start my own business.
Having good credit is always better than not having good credit (it seems obvious to me now, but how would one know to start building up credit unless they're taught to?), and I know there is no downside to not paying my credit card bill on time. Building my credit score may seem insignificant now when all my purchases are at most $100, but I've learned that taking the time to build credit will benefit me in the long run, a lesson I am sure I will be eternally grateful for in the future."
Established in the year 1910, 1st Financial Bank USA (1FBUSA) provides quality community banking services in South Dakota, credit card and other financial services to college students and college graduates, and construction lending to builders, developers, and investors from coast to coast. 1FBUSA will award a $2,000 scholarship to a new winner each month. View full rules and eligibility at 1fbusascholarship.com.