We are excited to announce the July 2022 Financial Goals Scholarship winner is Caleb! Congratulations!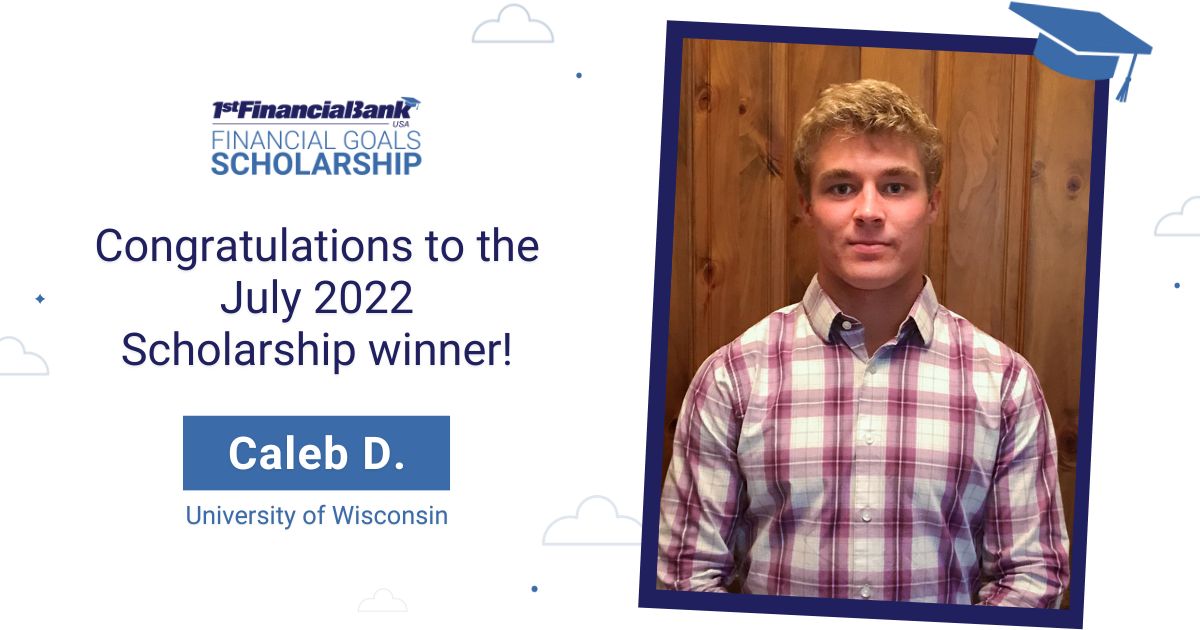 "I am extremely grateful for having been selected as the winner of a 1st Financial Bank Financial Goals Scholarship and would like to thank them for providing this opportunity. I would also like to thank them for providing information about money management and financial security on their website. Their efforts are making it easier for students to get out of college debt-free." - Caleb D.
In college, it can be easy to justify spending money to avoid the fear of missing out, or FOMO. However, not all fun activities and events have to stress your budget. Caleb shares when he had a wonderful time without spending any money and offers his advice to help those who are struggling with FOMO in college:
"The fear of missing out (FOMO) is a real feeling that affects the choices of middle school, high school, and college students. Many students will go out of their way and beyond their budget to fit in with the crowd. The FOMO is especially evident on a college campus where students buy designer clothing and the nicest laptops while renting the most expensive apartments in town. What many "High Rolling" students do not talk about is the student loan debt that they are drowning in. Is this really the only option for fitting in on campus? Absolutely not!
The first step I took to protect my budget as a college student was surrounding myself with like-minded individuals. Surrounding myself with students who keep a budget has encouraged me to clean up my own budget and has eliminated the chance of the dreaded FOMO. In fact, most of my friend group does research on financial independence in their free time. We often discuss what we find online and present unique ideas to each other that may help us get out of college debt-free. Keeping a tight budget is something that we have committed to as a group. We know that budgeting in college is not easy. For this reason, we hold each other accountable. Having a strong group around me has certainly saved me from taking out more student loans only to spend on recreation.

One tradition that we have created while at college is "The Friday Night Meal". Planning a big meal may not sound like saving money but while other students go out to local restaurants every Friday night, we head to the grocery store. The point of this meal is to save money but there are some rules to prevent us from becoming too frugal. The main requirement is to cover each of the five main food groups. It is also a goal to prepare a meal that includes great-tasting food and leaves no one hungry. We have found that this tradition feeds a group of eight for the price of three meals at a popular restaurant near campus.

This tradition has certainly drawn us closer as a group. Going grocery shopping creates a bonding experience and brings out a little creativity in each of us. I can honestly say that I would much rather spend the night going grocery shopping, cooking food, and sharing a meal in the apartment with my friends than going to a restaurant.

If you are struggling with FOMO because you do not want to stretch your budget, you are not alone. Many college students are living just like you. Check your university website for financial independence clubs. There may also be wellness groups on campus that are focused on budgeting and saving money. Searching these places will help you find students who care about where their money goes. Most importantly, you must be firm and passionate about your budget. Showing confidence will draw others to your way of living."
Established in the year 1910, 1st Financial Bank USA (1FBUSA) provides quality community banking services in South Dakota, credit card and other financial services to college students and college graduates, and construction lending to builders, developers, and investors from coast to coast. 1FBUSA will award a $2,000 scholarship to a new winner each month. View full rules and eligibility at 1fbusascholarship.com.