In July of 2021, the winner of the 1st Financial Bank USA Financial Goals Scholarship is Jaeschel! Congratulations!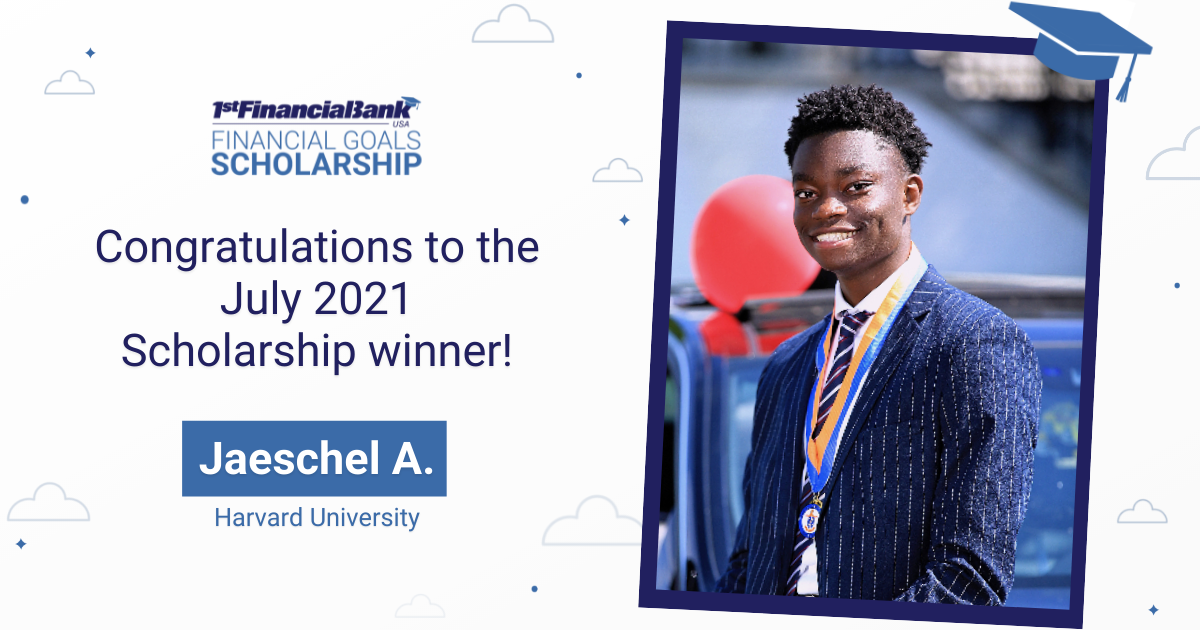 "I am deeply appreciative and elated to be selected winner, mainly because I know now I'll have additional help in financing school, but also the ability to practice financial independence in the future." -Jaeschel A.
College is a time when students attend classes, participate in events and activities, and potentially work a part-time job. On top of that, students are expected to learn how to manage their finances. Some students are even in charge of their finances for the first time. Jaeschel shares his experience of how having a credit card in college can help reduce the financial stressors of college and prepare students for the future.
"Juggling school, life, and extracurriculars alone is a tall task. Moreover, throwing finances into the mix does not make it any easier. However, as students, a credit card can help. Because of the financial burdens of independence and the outside cost of college, having a credit card can aid navigation through school. This is accomplished through the financial independence and freedom a credit card provides.
To understand why a credit card will help students navigate and prepare for the future, it is pivotal that we understand what financial stressors being a student can create.
One potential stressor is distance. As we know, most students go away from home for college to attend their respective universities. Not only does that create a distance between the student and their caretaker. That distance also creates a financial distance. Rather than having a guardian to pay for necessities like soap, toiletries, and laundry detergent, now it is all on us. That financial distance creates immediate independence that can potentially add to the stressors of academics and being away from home.
Another potential financial stressor is the costs of college. Outside of tuition, many other costs can accumulate, impacting a student's mental health. Those costs include textbooks and online webpages for specific courses, dining and meal plans, the list goes on. As school progresses, so do these potential financial burdens. Having a credit card can ease that burden, clearing up more mental space to excel in school.
As we grow, dependency on our guardians forever is not a viable way to live. One way a credit card can release the financial stress of distance is through financial education. A credit card provides time to understand your spending habits and the ability to optimize them for you. Additionally, with age comes expensive purchases. By learning the ins and outs of finances now, we will have experience with financial education -easing up life when we are older. This education will not just prepare us for the future but also advance us in the present.
As mentioned earlier, another potential cause of financial stress in school may be the outside cost of college. A credit card will not only provide time to cover those expenses, but it additionally provides space to build credit for through those necessities of college. In order to build high credit and trustworthiness, a credit card is essential. Mainly because in order to build credit, you have to use credit. If these purchases in school have to be made, using a credit card would provide a longer time to pay off the expense and build credit. Credit that can set your future up in astronomical ways towards financial education and, eventually, financial freedom.
With financial freedom comes larger aspirations. Aspirations that might take time, good credit, and financial education. Through using a credit card in college, those stepping stones can be achieved. Stepping stones that can propel students of all kinds towards a bigger and better future."
Navigating college and learning how to be financially independent often go hand in hand. However, they're not easy tasks. Getting a credit card while in college can help students gain experience with managing money, building credit, and more. Learn more reasons to get a credit card in college.
Established in the year 1910, 1st Financial Bank USA (1FBUSA) provides quality community banking services in South Dakota, credit card and other financial services to college students and college graduates, and construction lending to builders, developers, and investors from coast to coast. 1FBUSA will award a $2,000 scholarship to a new winner each month. View full rules and eligibility at 1fbusascholarship.com.