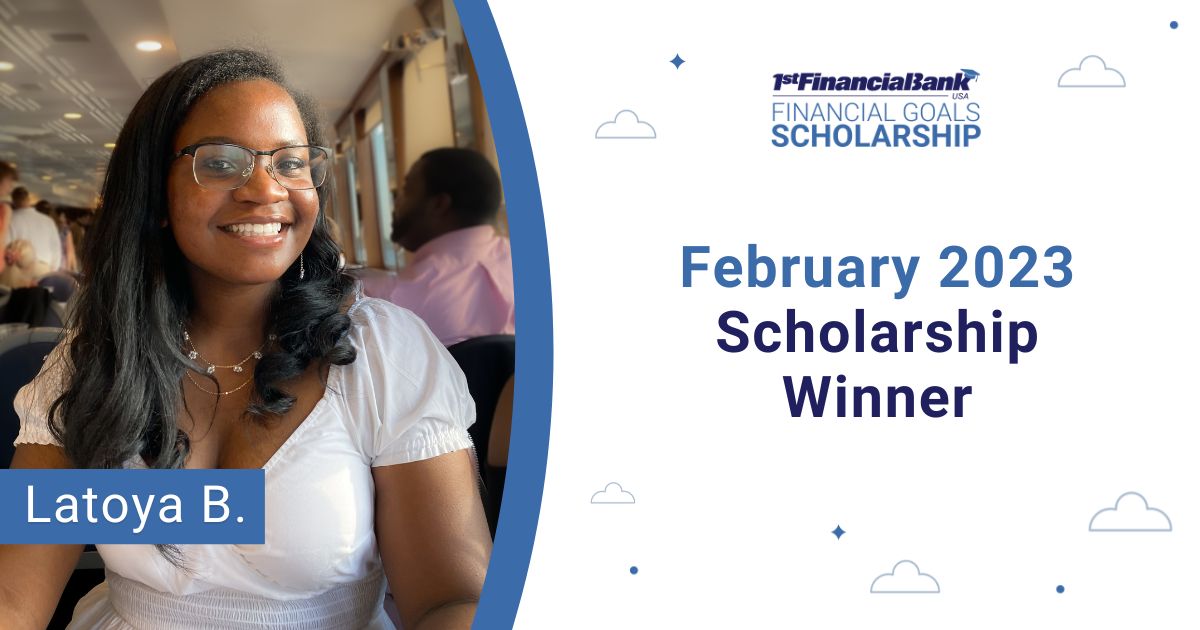 We are excited to announce the February 2023 Financial Goals Scholarship winner is Latoya! Congratulations!
"I am extremely grateful and blessed to have received this award. This scholarship will help me achieve my goal of becoming a reputable scholar, and I am appreciative of 1st Financial Bank USA for supporting my dreams." - Latoya B.
Setting and achieving financial goals as a student can kick-start good money habits that will carry into your life post-graduation. Whether you've saved money to pay for college, opened a credit card to build credit, or eliminated a poor spending habit, your financial wins are worth celebrating—no matter the size. In her essay, Latoya shares how she started investing at the age of eighteen with guidance from a financial advisor.
"Since I can remember, I've always noticed how in my town, minimum wage jobs that primarily relied on low-wage labor were mostly filled by older people; jobs like janitors, cashiers, and fast-food workers. I felt confused upon realizing this, because I was always taught that we are to work until our sixties, then stop working and enter retirement. So, when I saw people at the age of retirement working these low-wage jobs, I began asking questions. My parents taught me that a primary reason for so many older people still working was due to their lack of saving money throughout their life. From the moment I learned this, I knew I didn't want this lifestyle for myself, so I began looking into ways to ensure my future financial freedom and overall literacy, and I was able to take a step in the right direction right after I graduated from high school. My most significant financial achievement has been visiting a financial advisor and investing in a mutual fund at the age of eighteen.
I first learned about mutual funds in eleventh grade when I took a personal finance class in high school. Honestly, I didn't know what to expect from the class, and I only took it as a filler class to get enough credit hours to graduate. However, what started out as an obligatory class turned into the most educational experience I've ever endured. My teacher taught us all the basics of personal finance: how interest and credit cards work, the importance of credit, how to save money, etc. In our savings unit, I learned how the most crucial factor of saving money was one that I had in my favor: time. The earlier one starts saving money, the more money one will be able to save. Also, more time allows interest to yield more money in savings. Upon this realization, I decided that I would enroll in some sort of savings account when I received money upon graduating, and that is exactly what I did. I gathered the money I received from relatives and friends, met with a financial advisor, and decided that a mutual fund would benefit me best.
Although the overall act of saving money is much easier said than done, my mind always returns to the boom of older people working due to the lack of saving money. I am very aware that life brings events like medical emergencies and death of loved ones that cause intense financial distress, but I will do everything I can to prevent this from affecting me in my older years. Setting up my mutual fund, building a rapport with a financial advisor, and contributing small amounts over time (due to my status as a college student) has been my most significant financial achievement, and I am immensely proud of myself for taking a positive step toward my future."
Established in the year 1910, 1st Financial Bank USA (1FBUSA) provides quality community banking services in South Dakota, credit card and other financial services to college students and college graduates, and construction lending to builders, developers, and investors from coast to coast. 1FBUSA will award a $2,000 scholarship to a new winner each month. View full rules and eligibility at 1fbusascholarship.com.