We are excited to announce the February 2022 Financial Goals Scholarship winner is Dana! Congratulations!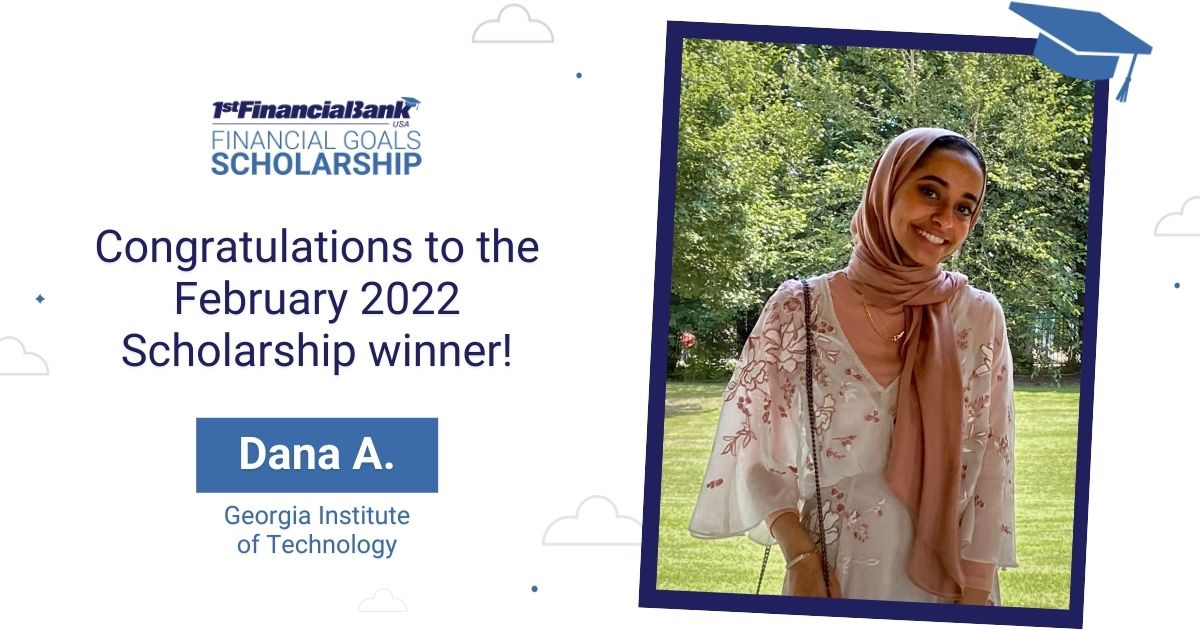 "I feel eternally grateful and honored to be selected as the February winner of the 1st Financial Bank USA Financial Goals Scholarship. I'd like to thank 1st Financial Bank USA for contributing towards my degree. The funds from this scholarship will help me take more steps towards the right direction. I also truly appreciate 1st Financial Bank's interest in spreading useful tips for all college students, as it is incredibly important and impactful. This opportunity means a great deal and I cannot wait to see how far it takes me!" - Dana A.
Between tuition and living costs, college can be expensive. Therefore, students must find ways to save money on essential and non-essential expenses. Dana shares her experience with saving money in college thus far and offers tips for other students to save.
"In this day and age it's quite easy to spend all your money. From our credit cards now being connected to our phones, to hundreds of easily accessible online shops to splurge at, it has become increasingly difficult to save money. I myself have been a victim to the ads online that leave me reaching for my wallet and wanting to spend my money. However, now, as a freshman in college, my new found independence has led me to become more strategic about my finances. I have been able to save money through some methods of my own.
For starters, I'd say my biggest rule and in fact my rule of thumb is that I can only allow myself to buy something I want if I can buy the item five times. This is my top tip to other students because it keeps you from blowing through all your money, but also drives you to work hard to earn money. Keeping this tip in mind makes the process of buying something much more fulfilling because I feel as though I have earned whatever it is I wish to purchase. Not only that, but this mindset has pushed me to earn more money than I ever have before. It's crucial to maintain a balance because it is important to me to be prepared in the possible scenario where a financial emergency may emerge.
In addition, becoming financially literate has become more important to me as I have grown older. To reach this goal I try to focus on new ways that I can reduce the amount I spend on the non-essential and essential expenses in my life. For example, since the college I attend is 2 hours away from my family, driving back to my hometown every week would be very expensive. At first, it seemed like paying for that amount of gas each week was something I would have to do or else I wouldn't be able to see my family often. Nevertheless, after some brainstorming, I came up with the perfect solution. Another student at my university who lives in my dorm hall also happens to be from the same city as me. So, I had suggested to her that we should alternate who would drive us both back home every week. This way we both save some money on gas because we only use one car instead of having to drive ourselves in our own cars. Coming up with compromises/solutions like these are truly critical to saving money. I have found that if you just give it some thought, you can find easy ways to save money not only for yourself, but others as well."
Established in the year 1910, 1st Financial Bank USA (1FBUSA) provides quality community banking services in South Dakota, credit card and other financial services to college students and college graduates, and construction lending to builders, developers, and investors from coast to coast. 1FBUSA will award a $2,000 scholarship to a new winner each month. View full rules and eligibility at 1fbusascholarship.com.