College is a time when students have educational and career objectives, but they also have financial goals. We are excited to announce the December 2021 Financial Goals Scholarship winner is Natalia! Congratulations!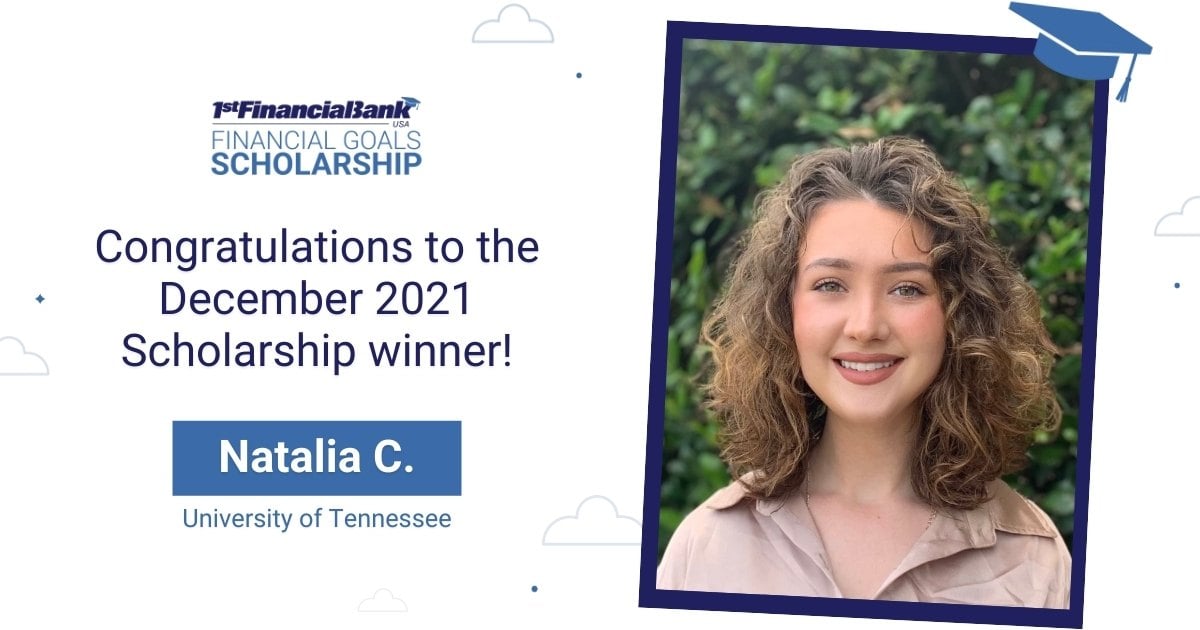 "I am so incredibly honored and grateful to be selected as the winner of the 1st Financial Bank USA Financial Goals Scholarship. Sharing resources that improve the financial literacy of my community has been something I understood to be high impact at an early age, and I hope to continue empowering my community through education surrounding financial literacy. Thank you so much for this scholarship, which will allow me to continue my studies as well as my outreach to the community." - Natalia C.
It's common to have a financial goal that benefits you or your family, but it's less common to focus your efforts on aiding the community you grew up in, which we think is pretty cool. Natalia shares why she developed her financial goal for the future and how she plans to achieve it.
"Growing up in the poverty-stricken areas of Philadelphia, I witnessed an immense lack of resources that could provide bright young children with tools to lead them to success. In addition, many of my close friends were trapped in harmful environments such as abusive or neglectful homes due to guardians using drugs or other harmful substances. Having experienced food insecurity and other symptoms of poverty myself, I quickly realized at a young age that education and financial literacy would serve as a portal to a better future. From these obstacles grew my desire to graduate with a degree in engineering, so that I could be equipped to research and develop innovative solutions to the challenges that plagued my community, and so that other young minorities and those in marginalized communities could see the empowerment behind breaking generational curses that often follow us.

My childhood inspired me to not only improve my circumstances but also to commit my life to finding solutions to the complex problems that my community faced such as addiction, poor mental and physical health, and a lack of access to quality education. This experience led me to develop the program "Young Professionals' Club" where I and another student teach and mentor high school students in lower socio-economic areas, much like the ones I grew up in, about how to apply for college and finance it, prepare for job interviews and other professional skills that many younger students do not have the opportunity to learn. A financial goal I am most determined to see out is to share and empower those in my community to be financially literate so that we can together grow and flourish outside of the financial struggles that typically plague my community such as bad credit, high-interest personal loans, and crippling debt. My other most significant financial goal, second to this, is to graduate debt-free so that my focus and energy can lie within succeeding post-graduation in my career rather than paying student loans.

Determined to give back to communities like the ones I grew up in, I aspire to ultimately use my education to invent programs and adaptive devices that improve the lives of those with substance addictions and physical and mental disabilities and hope to develop a company that develops affordable adaptive devices and healthcare programs. I will continue to utilize my education and experiences to close the gaps between well-resourced and under-resourced communities and ensure that all have access to an education that can allow them to rise above their circumstances and environment. Coming to reality with some of the experiences I endured as a child due to my family's circumstances has been incredibly difficult at times, but knowing I can turn those experiences into transformative actions for my community is my driver to persevere."
Setting a financial goal, such as aiding your community, is a major objective that requires an abundance of financial resources. If you're unable to give the gift of money and resources, then 25 Ways to Volunteer in Your Community can help. Just like any ordinary goal, if you put your mind to it and take the steps necessary to achieve it, you'll have no problem reaching your financial goals.
Established in the year 1910, 1st Financial Bank USA (1FBUSA) provides quality community banking services in South Dakota, credit card and other financial services to college students and college graduates, and construction lending to builders, developers, and investors from coast to coast. 1FBUSA will award a $2,000 scholarship to a new winner each month. View full rules and eligibility at 1fbusascholarship.com.