We are excited to announce that the December 2020 1st Financial Bank USA Financial Goals Scholarship winner is Savannah! Congrats!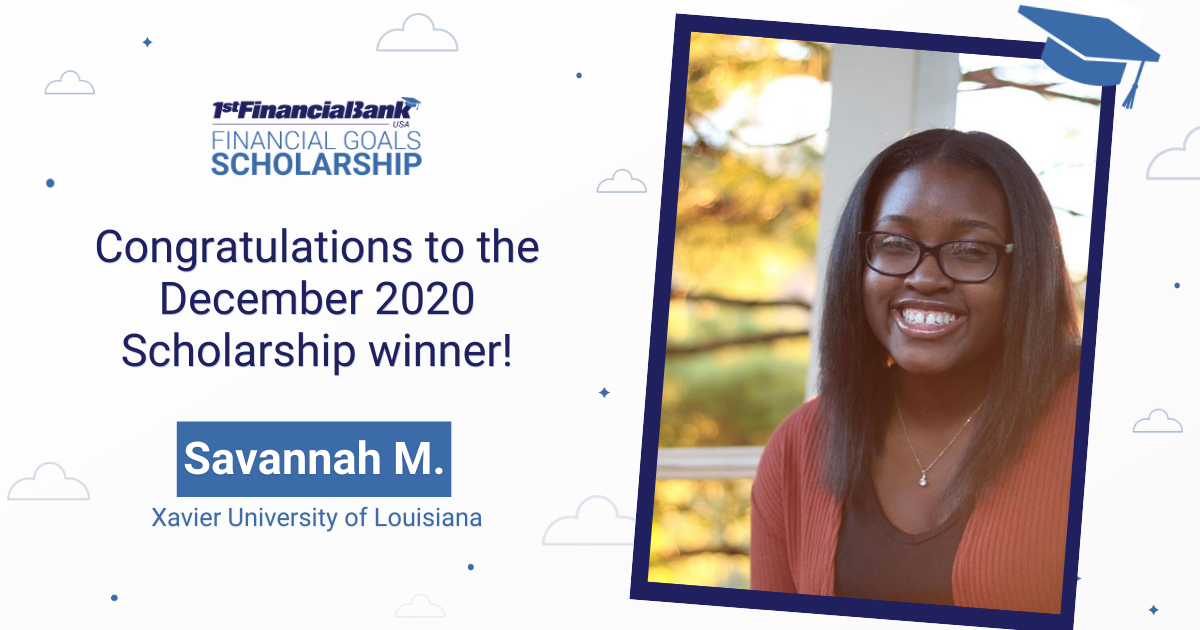 "First and foremost, I would like to thank the 1st Financial Bank for allowing me the opportunity to continue my education without a financial burden on my shoulders. Since I learned about Historically Black Colleges and Universities, I couldn't imagine myself anywhere else. I'm now a second semester sophomore at Xavier University of Louisiana studying chemistry on the pre-medical track. Since the pandemic, life seems to be more challenging than usual. One of the biggest takeaways from this scholarship is that everybody is experiencing the same pandemic and going through tough times, so take care of yourself. Do self-care, go for a walk (social distancing), take a bath, or catch up on your favorite show(s). Do something that makes you happy today because tomorrow is unpredictable." - Savannah M.
2020 has caused many students to adapt from in-person classes to virtual learning. Savannah shares her experience with the transition and offers advice to others in the same situation.
"Society already had my story written before I was born. Growing up on the impoverished south side of Madison, Wisconsin, I lived with my single teenage mother and younger brother. Throughout middle school, I was homeless. During this time, I was very suicidal; I struggled with school, making friends, and building connections. This event changed my perspective on my education and life. Several years later, I'm a chemistry major on the pre-medical track at Xavier University of Louisiana.
Dreaming of attending a Historically Black College or University since a kid, I would have never imagined being taught virtually or asynchronous. Since the Pandemic, I have struggled academically, socially, and mentally. From an academic standpoint, I found myself overwhelmed with taking seventeen credits while all online and spending twelve plus hours at my desk every day. I coped by taking mental breaks and scheduling out a timeframe to complete assignments. My advice regarding the workload would be to record lectures and go back and watch them when needed, along with writing things down in a planner and going through and checking off assignments when completed. Lastly, meeting with teachers at the beginning of the semester to develop a success plan for the course. Looking at things from a social aspect, I felt very alone this semester, as if I was the only one going through a tough time. Whenever I felt alone, I would try to video chat with a friend or loved one. My recommendation would be to check up on friends and family or go outside while socially distancing to get some fresh air as everyone is in the same pandemic. I have always struggled mentally but this year was like no other. To cope mentally, I found myself taking breaks several times throughout the day, having cry sessions, meditating, and journaling. I would encourage reaching out to trusted individuals to discuss emotions that are occurring. Also, having a scheduled mental health day to get food, take a bath, or catch up on some reading. My final suggestion would be not to let outside life interfere with academics; however, that can be a tough thing to do.
Having an income just over the poverty line, money has always been tight. I knew growing up that my mother could not afford to support me financially with going to college. Since the Pandemic, my mother lost her second job, which hit the family hard because my mother no longer had "extra" money to help with the necessities such as toilet paper, tissue, and groceries. This resulted in me having to find a Job, working fifty-plus hours, to help with bills and the everyday essentials. Being a recipient of this scholarship will allow me to focus on my studies without a financial burden on my back. If I am a recipient of the Financial Goals Scholarship, I can continue on a self-development journey and improvement while paving a new path towards the future."
Virtual learning has been a struggle for many students around the nation. Adjusting to a completely new routine is never easy. For virtual learning tips, read 7 Tips For College Students To Excel in Online Courses.
Established in the year 1910, 1st Financial Bank USA (1FBUSA) provides quality community banking services in South Dakota, credit card and other financial services to college students and college graduates, and construction lending to builders, developers and investors from coast to coast. 1FBUSA will award a $2,000 scholarship to a new winner each month. View full rules and eligibility at 1fbusascholarship.com.