We are excited to announce the August 2022 Financial Goals Scholarship winner is Sallie! Congratulations!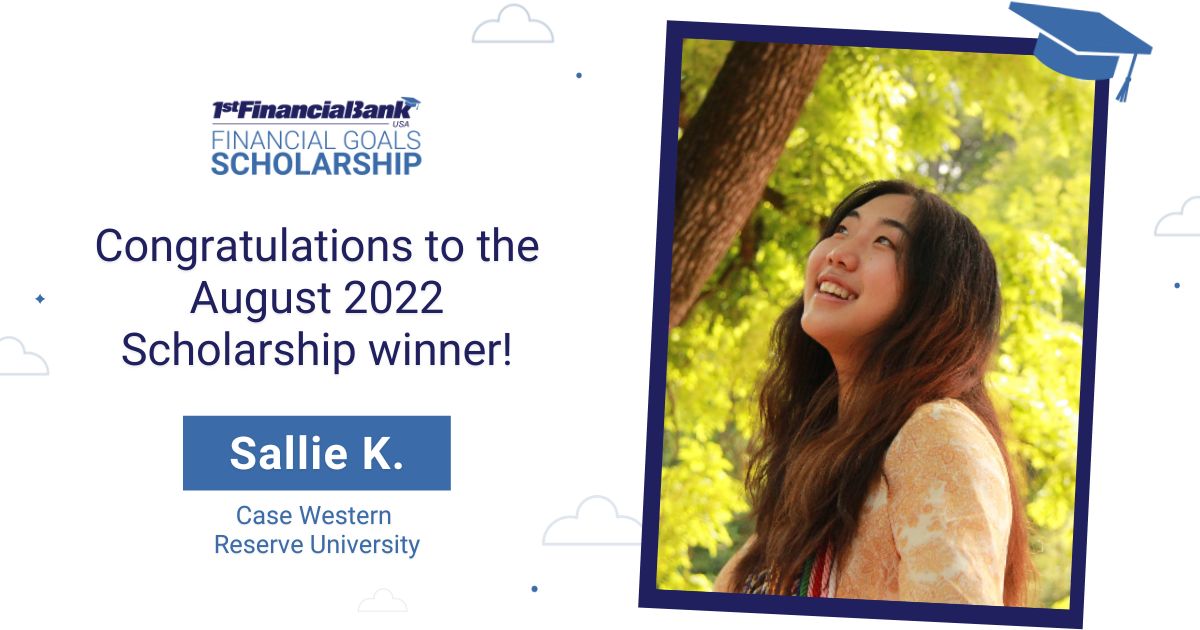 "I am so grateful to 1st Financial Bank USA for selecting me as the winner for this month and giving me support in pursuing my academic goals." - Sallie K.
In college, it can be easy to justify spending money to avoid the fear of missing out, or FOMO. However, not all fun activities and events have to stress your budget. Sallie shares when she had a wonderful time without spending any money and offers her advice to help those who are struggling with FOMO in college:
"Money doesn't buy happiness. The richest person may still cry themselves to sleep, while the poorest can't afford to consider happiness, and somewhere in the middle are the almost 20 million college students just trying to find some sense of belonging. Some students receive a monthly allowance, others are holding their heads just above the water, juggling being a full- time student with a part- time job, and others are drowning in debt.

Money doesn't buy happiness, but it doesn't feel good when your friends go out for dinner while you stay in your dorm because you can't afford it, or when your friends want to hang out, but you work every weekend to save for tuition.

Money doesn't buy happiness, but it can buy memories, experiences, and inside jokes. However, the best things in life are free. Those deep conversations and bonding moments rarely happen in concert halls or fancy restaurants, but in parking lots or while lying on a dorm room floor. Sure, the concerts and nights out are fun, but when I recall the moments where my friendships grew the most, movie nights crowded around a 13 inch laptop or crying out our frustrations in a parking garage immediately come to mind.

FOMO and loneliness can become your worst enemies in college, but I never felt more of a sense of belonging than when longboarding under the night sky, exploring a version of our campus we had only seen from a library window. We didn't need our wallets- I don't even think I brought mine. It was just us, our longboards, and an empty campus that became our playground. It felt as if all the stress- every assignment, exam, and insecurity- just flew away with the wind. After feeling like I couldn't walk from the weight on my shoulders, I felt like I could fly.

Until entering college, I never understood FOMO or lacking a sense of belonging. Then, in my first semester, I found myself overcome with loneliness and scrolling through Instagram, asking myself, "what is wrong with me? Why can't I have her life?" However, deep down I knew that I truly wouldn't be happy living their lifestyle, no matter how nice it looks on Instagram. I stopped comparing myself to others and forcing myself to fit into their box and found out what I like- what I enjoy spending my time doing, who I enjoy spending my time with. Most importantly, I learned to enjoy my own company and the power and freedom in doing things with yourself.

Everyone says college is the best four years of your life, but for many, it isn't. How exciting is it that you have the rest of your life to make those "best years?" Technically, it's all uphill from here. Your college experience may not look like what it does in the movies, or it might. There is no right or wrong to experience college- it's all about finding the right and wrong for yourself."
Established in the year 1910, 1st Financial Bank USA (1FBUSA) provides quality community banking services in South Dakota, credit card and other financial services to college students and college graduates, and construction lending to builders, developers, and investors from coast to coast. 1FBUSA will award a $2,000 scholarship to a new winner each month. View full rules and eligibility at 1fbusascholarship.com.