The August 2021 Financial Goals Scholarship winner is Julissa! Congratulations!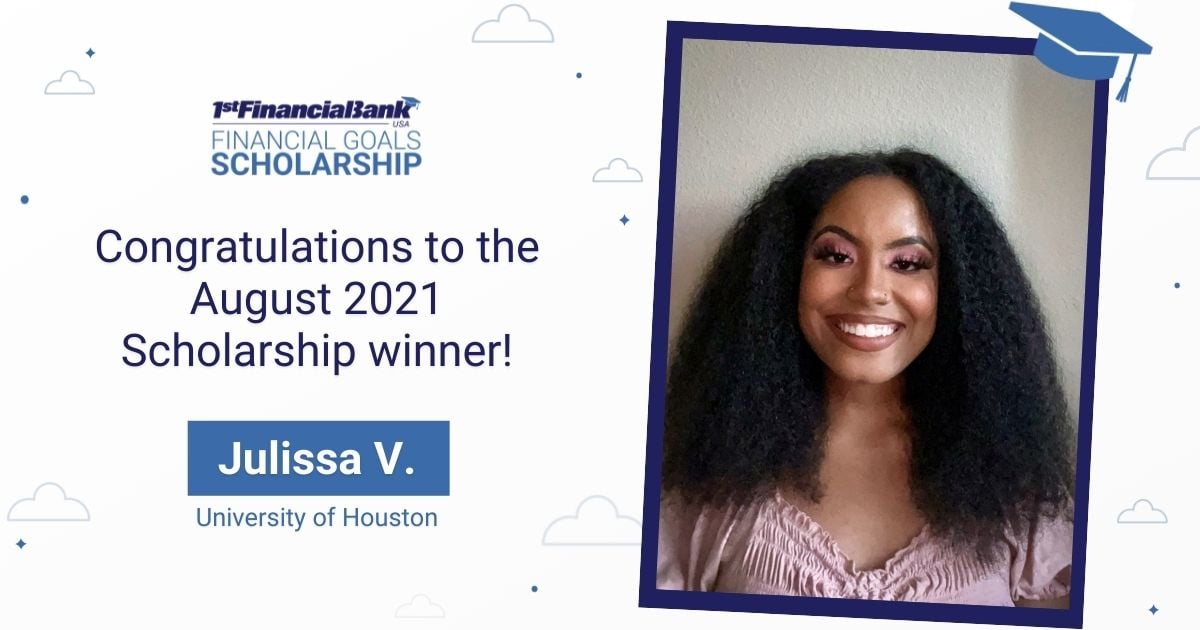 "This award came at an unexpected but perfect time. I am beyond grateful to 1st Financial Bank USA for aiding students like myself, my parents for educating me on financial responsibility, and God for guiding and blessing me. This award will allow me to advance my college education, which is bringing me one step closer in the pursuit of opening my own business. As a college student, I have begun to understand debt and the implications surrounding it, whether good or bad. I hope that other students also educate themselves on the matter and learn how to manage their debt to be successful in their future endeavors." -Julissa V.
College is a time when students attend classes, participate in events and activities, and potentially work a part-time job. On top of that, students are expected to learn how to manage their finances. Some students are even in charge of their finances for the first time. Julissa shares her experience of how having a credit card in college comes with many advantages, such as building credit for the future.
"It is common knowledge that college can be expensive, not only because of tuition, but additional fees, books, food, and countless other expenses must be considered as well. Because students have so much to do and seemingly so little time, it can be difficult to juggle having a job and completing schoolwork in a timely manner. The advantages of getting a credit card as a student are learning about budgeting, building up one's credit score, and having increased spending money.
Credit cards essentially encourage students to maintain a budget to ensure that they are able to cover their necessary expenses and pay at least their minimum balance on their credit account. As a college student, it is imperative to balance work and play, and a budget allows students to allot funds towards going out or recreational activities. Many people utilize the 50-30-20 rule, which proposes that half of one's income goes toward necessities, 30% goes towards wants, and 20% is designated for savings or debt. Having a budget requires students to be more financially conscious, which includes being aware of their income, tracking expenses, finding ways to save money, and ensuring that debt is being paid. A credit card benefits students by promoting financial responsibility.
Building credit is also important for students because it can help them with their future goals. Good credit can allow for better loans on cars or houses, and can even earn students better rates on private loans. Starting to build credit early is vital because credit length and payment history are factors that lenders take into consideration when offering loans. Students that are able to maintain good credit from a young age will receive better loans in the future and will have adopted good habits to pay off debt.
Students may also use credit cards as an additional form of payment. Rather than using their own funds immediately, students are able to utilize credit cards if they are between paychecks …. Students can use their line of credit as an alternate form of payment, but must do so responsibly to ensure that they do not exceed their limit. A rule of thumb for students to avoid overspending on their credit card is for them not to spend more on their credit card than they have in their personal bank account. This ensures that students will still be able to make at least their minimum payment without completely depleting their personal funds. Credit cards simply act as an added security to cover any unforeseen expenses and allow students to maintain their budget if they need additional income.
By keeping a credit card, students are able to form healthy financial habits, learn about the benefits of good credit and paying off debts, and have increased purchasing power. These advantages give students the upper hand to reach future financial goals and become more self-aware to be successful."
When used responsibly, credit cards can give you an edge in building a stable financial future. Getting a credit card while in college can help students gain experience with managing money, building credit, and more. Learn more reasons to get a credit card in college.
Established in the year 1910, 1st Financial Bank USA (1FBUSA) provides quality community banking services in South Dakota, credit card and other financial services to college students and college graduates, and construction lending to builders, developers, and investors from coast to coast. 1FBUSA will award a $2,000 scholarship to a new winner each month. View full rules and eligibility at 1fbusascholarship.com.