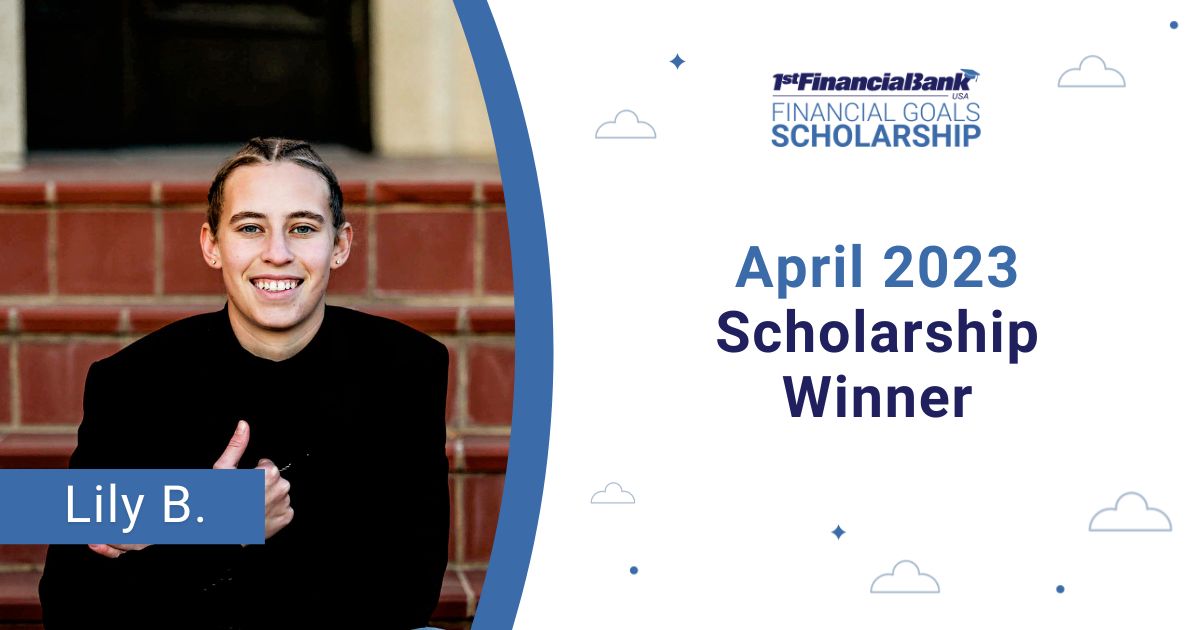 We are excited to announce the April 2023 Financial Goals Scholarship winner is Lily! Congratulations!
"It is such an honor to be selected to receive the 1st Financial Bank USA Financial Goals Scholarship. This opportunity has inspired me to continue broadening my knowledge in financial literacy and apply targeted strategies to my financial goals. I am so grateful for the generosity of the 1FBUSA and their commitment to encouraging young adults. I am excited to pursue my college education, and would like to send one final thanks to 1FBUSA!" - Lily B.
Bad money habits, like comparing yourself to others financially or spending beyond your means, can be hard to break. However, the money moves you make in college can have a lasting impact on your finances in the future. Below, read Lily's essay about overcoming the bad habit of spending money without having a budget.
"I still remember the excitement that buzzed through my body when I heard the familiar tune of the neighborhood ice cream truck. I rummaged through my Duct Tape wallet to scrounge up the quarters and dollars I had earned that week doing chores. However, one thing sticks out in my mind even more than the memorable flavor of a Sponge Bob or Batman popsicle; the pride that I felt when I handed over the crisp dollar bills that I, myself, had earned.
One thing I had mastered as a child was tracking my spending. It was simple, I really only ever bought one thing: ice cream. Soon, however, single dollars turned into twenties and my list of expenses got much more complex. As a result, spending money lost its significance to me, and the accounts of where I was spending money slowly became more disheveled. I would largely consider this to be my worst financial habit; a failure to track and budget where I spend my money.
As I approach complete financial independence in college, it is extremely important that I not only recognize poor financial practices but also work towards developing skills that help me manage my money better. It is imperative that while in college I make deliberate and conscious choices with my earning and spending habits to avoid accumulating too much student debt and forming good practices for adulthood.
The first step in developing a practical model to track my finances was understanding my current spending habits. To do so, for one month I kept the receipt of every purchase I made and did my best not to alter my behavior and skew the data. At the end of the month, I categorized each purchase into major sections: food, leisure, and necessary payments, such as gas, bills, and toiletries. Using this data, I was able to conclude that a majority of my financial misuse was in the food category. In many instances I ate out at a fast-food restaurant rather than picking up a very similar, and much cheaper alternative at the grocery store.
Next, I developed a budget that would improve my frugality in this category. The goal was to reduce my spending on food by 30% and allocate the remaining money to savings. Surprisingly, the experiment went much better than I anticipated. In the month of January I was able to cut my spending on food down by 50% and add the rest to a savings account. This process was extremely gratifying, as I watched my hard earned money go to a more productive cause and visualized my habits improving.
I have continued to budget and monitor my spending in a conscious way, and although there is still much improvement to be made I am proud of the stride I have taken to properly manage my finances. I look forward to using my savings to begin learning the basics of making investments and handling larger purchases, like college expenses."
Established in the year 1910, 1st Financial Bank USA (1FBUSA) provides quality community banking services in South Dakota, credit card and other financial services to college students and college graduates, and construction lending to builders, developers, and investors from coast to coast. 1FBUSA will award a $2,000 scholarship to a new winner each month. View full rules and eligibility at 1fbusascholarship.com.