We are excited to announce the April 2022 Financial Goals Scholarship winner is Andrew! Congratulations!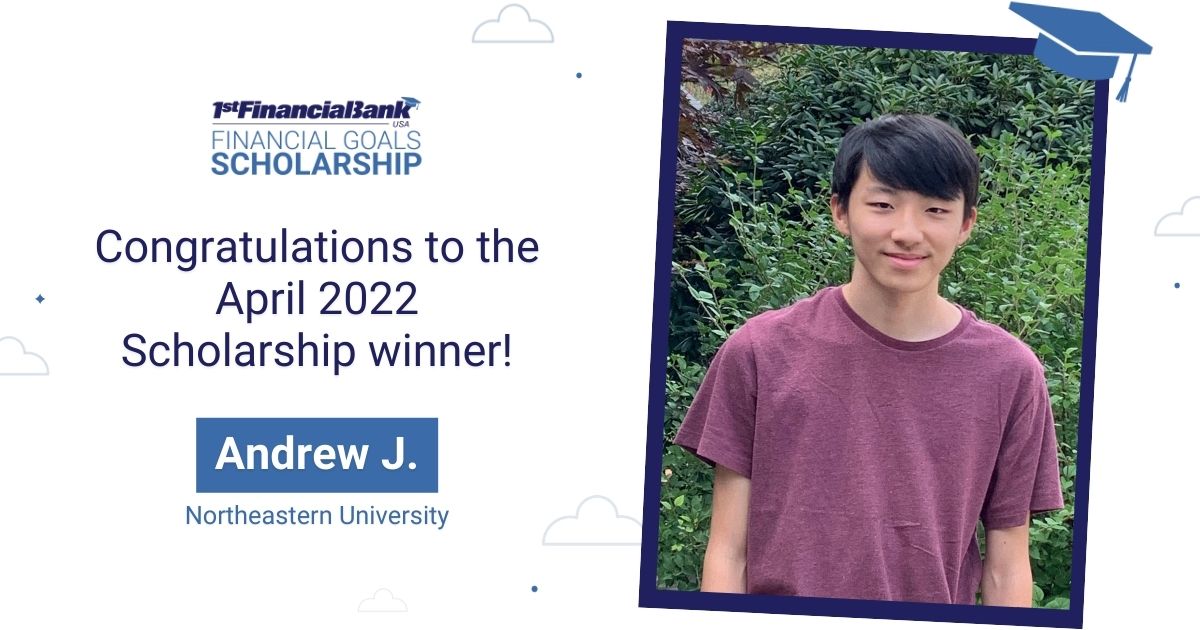 "I am extremely honored and immensely grateful to be chosen for this month's scholarship. This will go a long way to support my education in college. Thank you so much 1st Financial Bank for giving me this amazing opportunity and sponsoring financial education!" - Andrew J.
Between tuition and living costs, college can be expensive. Therefore, students must find ways to save money on essential and non-essential expenses. Andrew shares 3 tips for how he plans to save money in college as a freshman.
"I have just completed the college application process and committed to Northeastern! Excited to live in Boston and study my passions, this will be my first time living independently as an adult. During high school, I learned to manage my money by saving from my school year and summer jobs tutoring math. In college, I will need to maximize my savings opportunities in order to pay for tuition, books, and living expenses. That is why I see these top tips for saving money as so important. My top tips are to take advantage of student discounts, use public transportation, and optimize the meal plan.
One of the things I'm most excited about is my student email. I know that sounds simplistic, but a college email can be used to grab discounts in many places - from essential school supplies to pursuing my hobbies. When buying school supplies such as notebooks, pencils, and pens, I can get a discount at big name stores such as Target. Similarly, as an engineering student, I will need a great computer. Dell offers a significant student discount as well.
Besides stores, my dream while living in Boston and attending college has always been to enjoy the city - see Yo-Yo Ma and the Boston Symphony, visit the Museum of Fine Arts, and watch the Red Sox at Fenway. As a student, I can do all of these at a reduced fee. To me, college is about more than just building career knowledge, it is about building cultural knowledge, and being able to do that while saving money is a huge benefit. Of course, it is not just Boston that offers these opportunities. Many cities, brands, stores, newspapers, and public places all give discounts that every student should take advantage of to save money.
My next tip is to take advantage of public transportation in the area around your college. Boston has a great public transportation system and Northeastern offers a discounted semester pass at an 11% discount. I can also get around quite well on foot, too. Students should absolutely look into the public transportation options in their area as well as the walking routes - it saves money and is so much better for the environment as well!
Finally, I'm excited about learning to cook and creating my own meals. Meal plans are expensive, and as a freshman, students are usually required to sign up for one. However, my tip is to sign up for the smallest meal plan and cook meals. That way, I will be able to save money, hone my cooking skills, and have a reminder of my mother through her cooking while I'm in college.
To save money in college, I aim to take advantage of the benefits that come with student discounts, public transportation, and minimizing meal cost plans. I can't wait to become a college student!"
Established in the year 1910, 1st Financial Bank USA (1FBUSA) provides quality community banking services in South Dakota, credit card and other financial services to college students and college graduates, and construction lending to builders, developers, and investors from coast to coast. 1FBUSA will award a $2,000 scholarship to a new winner each month. View full rules and eligibility at 1fbusascholarship.com.