April showers bring May flowers and a new 1st Financial Bank USA scholarship winner! In April of 2021, the winner of the 1st Financial Bank USA Financial Goals Scholarship is Vianny! Congratulations!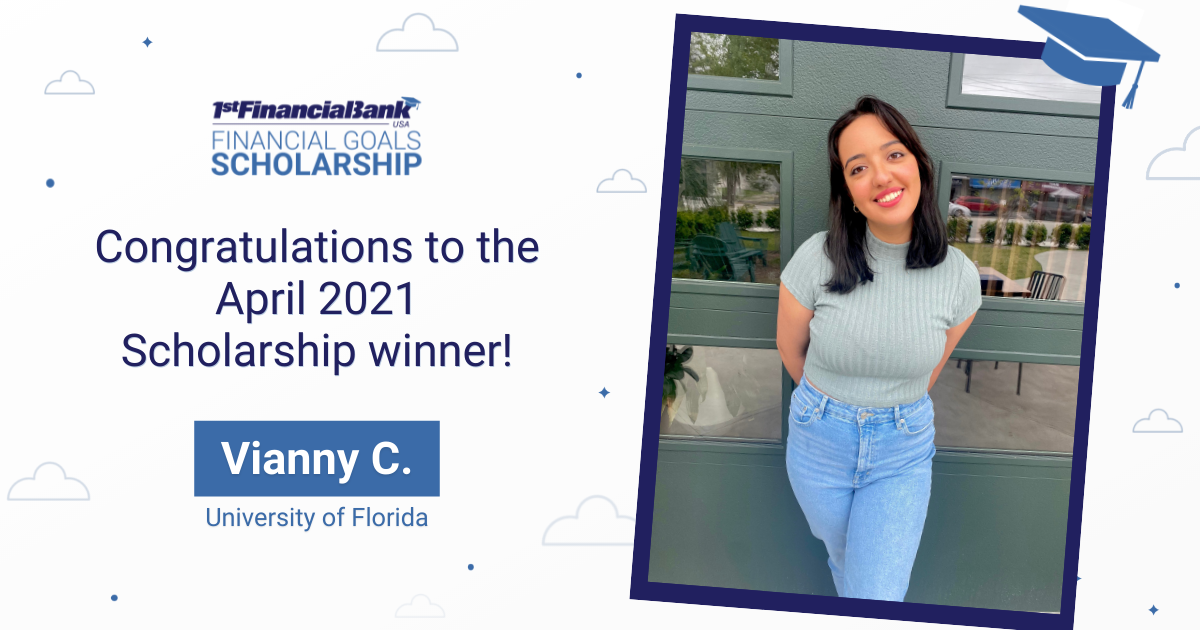 "I would like to express my deepest gratitude and thanks to 1st Financial Bank for this wonderful opportunity. I am so grateful and honored to receive this scholarship as it will help me pay for my undergraduate expenses. I hope my personal finance tips help someone on their journey! Thanks again for this opportunity!" - Vianny C.
College is a time when students attend classes, participate in events and activities, and potentially work a part-time job. On top of that, students are expected to learn how to manage their finances. Some students are even in charge of their finances for the first time. Vianny shares her experience of balancing college with money management and offers advice to others in the same situation.
"Though I haven't moved to campus yet because of the virus, I still have felt the rush into adulthood that many students feel. In a few years, I'll have complete and utter independence. I learned quickly that I would need to get a grasp of financial literacy sooner than later.
Gaining financial literacy was pretty daunting at first, especially when juggling classes and extracurriculars. That was until I attended an investing and personal finance webinar created by and for BIPOC women. I learned that learning about personal finance didn't have to be difficult and could be done by watching YouTube videos, attending free webinars, and reading online articles. The hardest part was just starting the journey. It was something I could do in between classes or during the evening. I was actually excited to do so because I knew I was helping myself out in the long run.
I held zoom sessions with my friends where we discussed the different financial tips we were learning. One tip would be to track your income, expenses, and compare that to a budget you create. I am planning on studying abroad during the spring semester of 2022 so, I have had to be very careful with planning financially. I use apps like Mint and Ally Mobile to keep track of my financial goals. It is so important to be aware of the money you have and spend because accidentally spending more than you have could end lead to paying very high overdraft fees.
The second tip would be to save any leftover money in high-interest online savings accounts. The difference in interest accumulated between brick and mortar banks and online banks can be very significant (0.01% APY vs 0.5% APY!). During one of my first college events, a speaker told us that many students don't realize that after graduation there are a lot of expenses (like traveling for interviews, apartments, etc.) and stressed the importance of having an emergency fund that could last you 6-12 months.
Another tip would be to start building credit by only buying what you can afford. I've learned that building credit now in an educated and safe way is imperative for future decisions like buying/renting property and even applying to post-grad education. At their best, credit cards can be great to rack up on cashback, gain points for airline flights, and establish a credit score. But if used recklessly, credit cards could lead to spending hundreds on interest and late fees.
My final tip is to be aware of what's to come. When you get your first salary position, maxing out your 401k, investing in a Roth IRA, and potentially seeking a financial planner are instrumental in achieving financial freedom. Doing a bit of research before graduating makes adulthood finances seem less scary.
Financial literacy can feel overwhelming and managing money in college can be very difficult considering rising tuition costs. Just know that there is information out there and communities willing to help. You got this!"
Even though it isn't easy for students to correctly manage their money on top of all of their extracurriculars, it doesn't have to be over-complicated either. They should start by creating a budget, and if they need help, use How to Create a Budget for College as a guide. With the right attitude and resources, students can be masters of their finances in no time!
Established in the year 1910, 1st Financial Bank USA (1FBUSA) provides quality community banking services in South Dakota, credit card and other financial services to college students and college graduates, and construction lending to builders, developers and investors from coast to coast. 1FBUSA will award a $2,000 scholarship to a new winner each month. View full rules and eligibility at 1fbusascholarship.com.