We're thrilled to announce the 50 winners receiving a 1st Financial Bank USA Financial Goals Scholarship!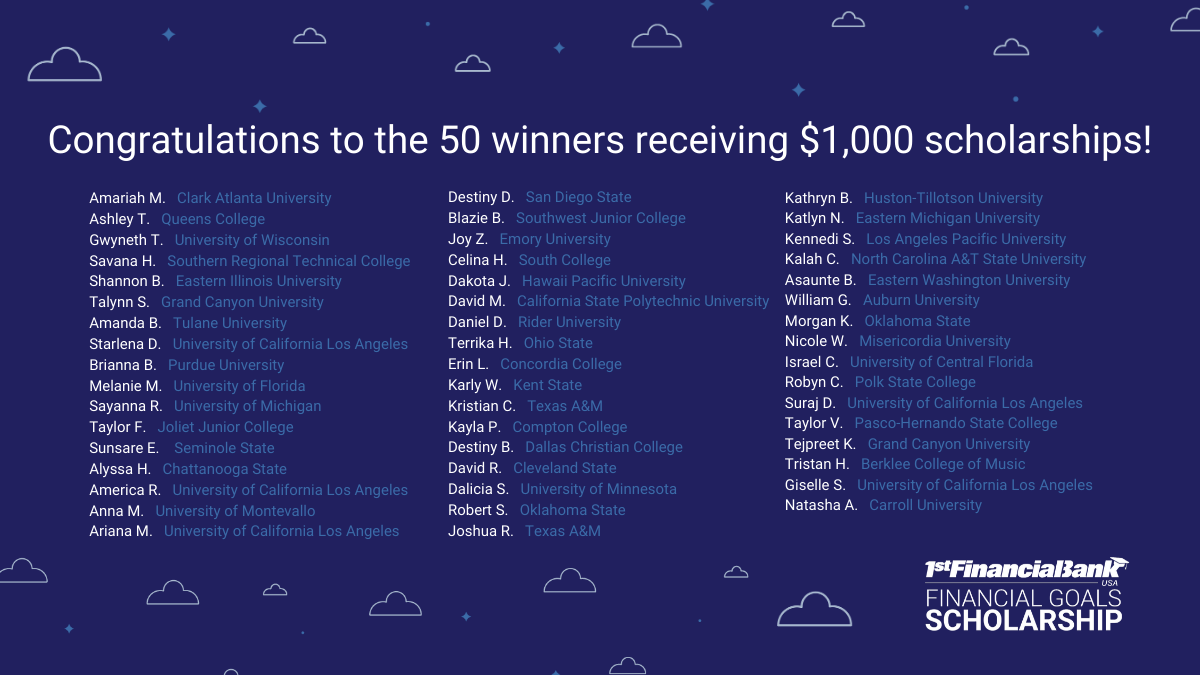 The Financial Goals Scholarship received an overwhelming number of entries. Therefore, 1st Financial Bank USA decided to up the number of winners from 30 to 50! We'd like to offer a sincere thank you to all the students who entered and shared their personal experiences with us. We feel so fortunate to be able to help 50 of you reach your goals.
Selecting the winners was not an easy process. If you did not win, we still greatly appreciate the time you took to enter and share your story. There will be more chances to win in the future!
Amariah M.Clark Atlanta University
Ashley T.Queens College
Gwyneth T.University of Wisconsin
Savana H.Southern Regional Technical College
Shannon B.Eastern Illinois University
Talynn S.Grand Canyon University
Amanda B.Tulane University
Starlena D.University of California Los Angeles
Brianna B.Purdue University
Melanie M.University of Florida
Sayanna R.University of Michigan
Taylor F.Joliet Junior College
Sunsare E.Seminole State
Alyssa H.Chattanooga State
America R.University of California Los Angeles
Anna M.University of Montevallo
Ariana M.University of California Los Angeles
Destiny D.San Diego State
Blazie B.Southwest Junior College
Joy Z.Emory University
Celina H.South College
Dakota J.Hawaii Pacific University
David M.California State Polytechnic University
Daniel D.Rider University
Terrika H.Ohio State
Erin L.Concordia College
Karly W.Kent State
Kristian C.Texas A&M
Kayla P.Compton College
Destiny B.Dallas Christian College
David R.Cleveland State
Dalicia S.University of Minnesota
Robert S.Oklahoma State
Joshua R.Texas A&M
Kathryn B.Huston-Tillotson University
Katlyn N.Eastern Michigan University
Kennedi S.Los Angeles Pacific University
Kalah C.North Carolina A&T State University
Asaunte B.Eastern Washington University
William G.Auburn University
Morgan K.Oklahoma State
Nicole W.Misericordia University
Israel C.University of Central Florida
Robyn C.Polk State College
Suraj D.University of California Los Angeles
Taylor V.Pasco-Hernando State College
Tejpreet K.Grand Canyon University
Tristan H.Berklee College of Music
Giselle S.University of California Los Angeles
Natasha A.Carroll University